National Geographic Traveler has declared them a finalist in its prestigious World Legacy Awards in the category "Conserving the Natural World". This makes Elephant Hills the only finalist in all of Asia in this category.
Elephant Hills are Thailand's first Luxury Tented Jungle Camps, combining the camp idea of African national parks with the Thai tropical forest environment. The two camps, The Elephant Camp and the floating Rainforest Camp, are both situated in Khao Sok, part of Southern Thailand's largest stretch of primary rainforest. Despite being tucked away in the green, these camps are easily reachable from popular beach destinations like Phuket, Khao Lak, Khanom, Krabi and even Koh Samui.
Elephant Hills offers 2-4 day luxury adventure tours in and around stunningly beautiful Khao Sok National Park in Southern Thailand. The highlight of the tours is the unique Elephant Experience, during which you will get to wash, feed and interact with these magnificent creatures. Besides that, you do have the option to marvel at breathtaking landscapes while lazily being paddled down a river in a canoe, explore mysterious mangrove swamps and legendary jungle lakes full of limestone formations, relax at deserted beaches, visit local markets, discover primary rainforest on foot and much more.

After an exciting day out you may enjoy a drink from the Jungle Explorer's bars either at The Elephant Camp or at Rainforest Camp while exchanging travel tales with other guests before sinking onto the comfortable mattress in your luxurious en-suite tent.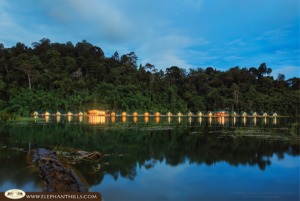 All tours are fully inclusive of activities, accommodation, transfers to and from the camp, all meals and a well-educated, fully-licensed tour guide. All packages include the unique Elephant Experience: an opportunity to watch and interact with, wash and feed the endangered Asian Elephant. A truly memorable experience.
The Elephant Camp
Situated right on the border of the rainforest of Khao Sok National Park, the 35 luxurious tents in the Elephant Camp are tailor-made and set in the largest protected area of rainforest in Southern Thailand. Each tent features comfortable solid beds, fan, tea and coffee making facilities and a luxurious bathroom with Western style toilet, hairdryer and hot and cold shower. The furniture is handmade by the camp's very own skilled craftsmen using natural materials and provides all the comfort you would normally find in a hotel room.
The tents have ample space, are well protected against mosquitos and other possible intruders, offer plenty of lighting and are the perfect place to reflect on the day's observations and activities. A night at Elephant Hills is a unique experience when the temperatures drop and the campfire creates a romantic and warm atmosphere in which to share travel tales as the rainforest and its inhabitants form an exciting concert.
The main area at The Elephant Camp consists of the reception, a semi-open-air restaurant, a well-stocked bar, a small souvenir shop, a fireplace, maps, newspapers and info boards as well as a swimming pool with superb view of the spectacular limestone cliff backdrop. It even offers free Wi-Fi to share all your pictures and experiences with the rest of the world while sipping ice-cold beer or a freshly prepared Piña colada.
Furthermore you will find a local herb garden with plants like pineapple, papaya, peppers, galangal, chilies and much more. Fish can be fed in the little fish pond or you may head to the Sok River with all its wild fish just behind the camp.
The Rainforest Camp
Opened in January 2011, Elephant Hills Rainforest Camp is the little sister of The Elephant Camp and situated in the centre of Cheow Larn Lake in Khao Sok National Park. Rainforest Camp, one of the only floating tented camps in the world, is located on one of Thailand's most spectacular lakes surrounded by rainforest and towering limestone mountains.
20 luxury safari tents with en-suite bathrooms provide an intimate base for you to explore Southern Thailand's tropical rainforest. Powered by both wind and solar energy and using responsible waste management, Rainforest Camp is designed to be at one with nature. This has to be the most unique and responsible way to experience the true beauty of Southern Thailand's endangered rainforest habitat, home to wild elephants, hornbills, rare Asian oxen (gaurs), various monkey species, a myriad of reptiles, amphibians and floral species.
Khao Sok is home to threatened and endangered animal species and experts estimate the biodiversity to be higher than in the Amazon basin. Its conservation is vital for the ecological balance of Southern Thailand. Adding to the already successful and unique soft adventure nature tours, the Cheow Larn lake is a must see for all nature lovers. Relax in front of your tent, take a swim in the emerald waters of Cheow Larn Lake, kayak through its khlongs and channels in search of monkeys and birds and trek through the rainforest before watching the sun set over the jungle. A night at Rainforest Camp is certainly one you will not forget too soon.
Our senior sales consultant, Nuri Lamin, will be visiting Elephant Hills this July with his family so we will have a very special and personal report to share with you on his return.