Imagine tropical islands with swaying palm trees, pure white beaches and beautiful lagoons…


Family holidays to the Maldives never disappoint, lying off the southern tip of India, this slender chain of coral islands with powdery sand and crystal-clear waters featuring vast lagoons and dazzling underwater gardens stretching out to the horizon is the perfect balance of a place in which time almost seems to stand still. Find out why the Maldives have been called 'the last paradise on earth'.
 Arriving in the Maldives, you'll enter a world of ultimate relaxation, but there are plenty of activities for you and the family to enjoy. Our selected resorts also offer a huge array of watersports, including scuba diving, snorkelling, fishing and more. But no matter where you stay in the Maldives atolls, you'll be sure to be refreshed and re-energised. 
 With never-ending sunshine and warm waters throughout the year, family holidays in the Maldives are ideal for water sports and diving. If your children are less keen on getting into the sea or a little too young to go out on the open water, there are plenty of well-supervised swimming pools and other resort-based activities to keep them occupied. 
 By choosing the Maldives as a destination for your family holiday, you really are spoilt for choice. Explore a variety of magical tropical sea creatures in the vast number of beautiful lagoons, experience the thrill of numerous water sports, or if your preference is more extreme, then there are plenty of other activities to get the adrenaline flowing. 
If the wide variety of water sports don't take your fancy, then you and the family can relax on the beach, sampling delightful foods. Whatever you and your family want to do, the Maldives makes it possible. 
 Believe it or not, there is a large settlement in the Maldives, and many locals live and work on the islands. If you stay at a private island, make sure to book an excursion to visit the nearby local islands and communities to sample the life and culture of the residents. 
Take some cash with you on these excursions as you will find many fine and unique items from local crafts to beautiful jewellery. 
 The Maldives is a world-class surfing destination attracting top surfers from around the world to face its awesome break. For adrenaline junkies, surfing is definitely one of the best things to do in the Maldives.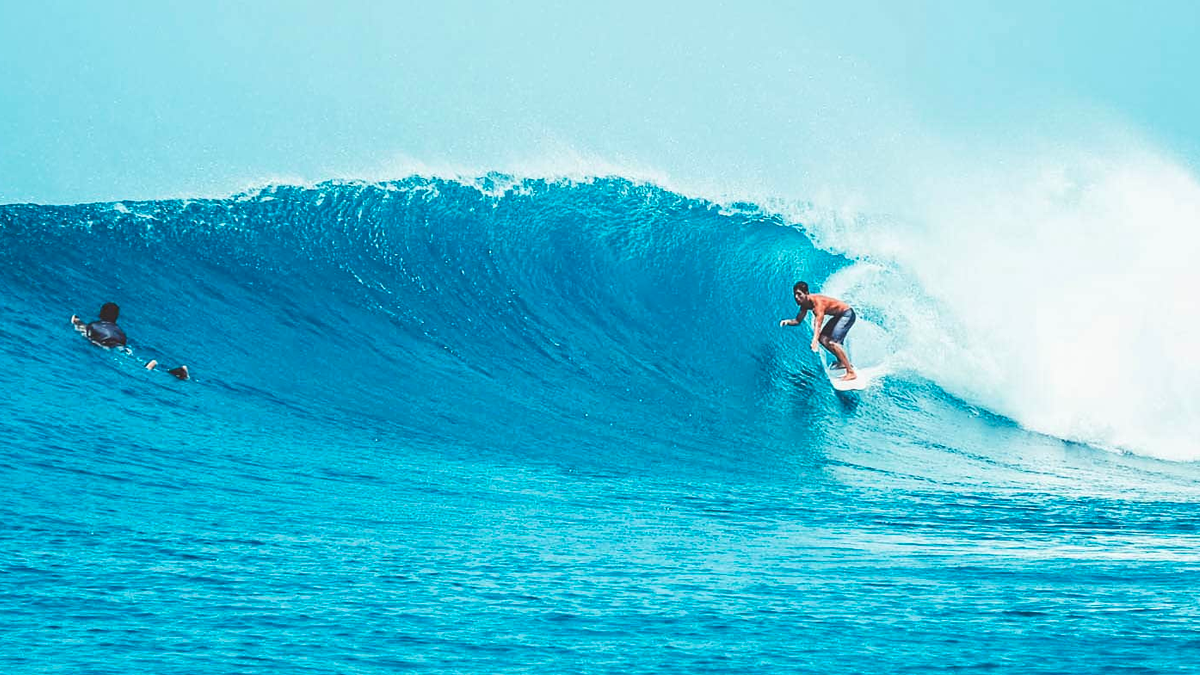 Dhonveli is even a stop on the pro surf circuit. If you aren't a pro, don't worry, there are other islands in the Maldives where you can take surfing lessons. Paddleboarding is a great alternative. You can paddle in safe bays with water so clear you can see fish swimming right below your board. Most islands are surrounded by calm shallow waters that only ebb and flow with the rising tides.
---
Baros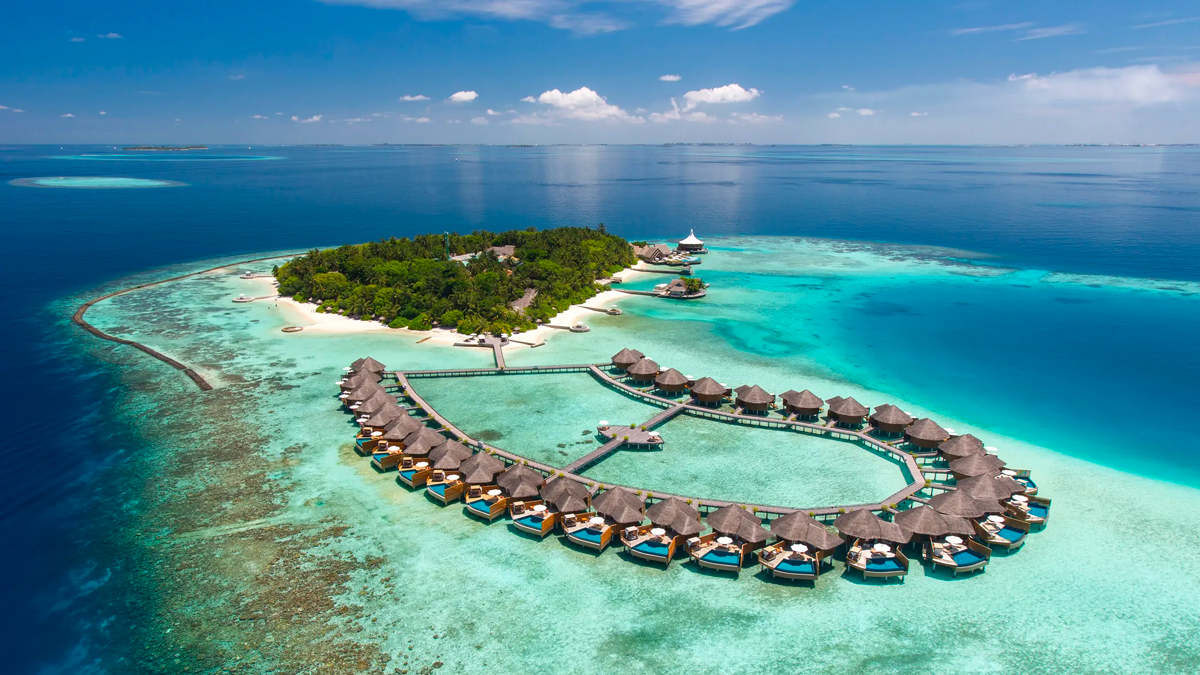 Baros has a fabulous reef teeming with marine life, and it is even possible to spot manta rays on the west side of the island. Water-based excursions are readily available, including voyaging on Nooma, a traditional handcrafted Maldivian sailing dhoni, or a cruise on Serenity, a modern luxury motor yacht. 
24 Deluxe Villas sit among tropical foliage by the beach, featuring a large teak-floored bedroom opening onto a veranda facing the ocean. There are also 15 more spacious Baros Villas right by the beach, which have a four-poster bed and a private veranda with decked area. 
 Located on a crescent-shaped boardwalk, 30 Water Villas inspire romance with a beautifully draped four-poster bed and bathtub overlooking the ocean. There is a private deck for sunbathing and wooden steps down into the lagoon. All Villas come with some thoughtful little extras such as wine-chiller, iPod docking station and espresso machine.
 Pack a picnic and head out on a dhoni, keeping an eye out for a pod of dolphins or a leaping sailfish. Or, enjoy an à la carte diving experience in this amazing oceanographic environment. Experienced dive teams will choose the site according to the moon, tides and currents. Submerge yourself amongst colourful corals, graceful rays and inquisitive turtles.
 The resort also has a spa, fitness centre and yoga and meditation classes. Three restaurants and two bars offer local Maldivian and international cuisines in over water or on the beach locations. 
---
Four Seasons Landaa Girravu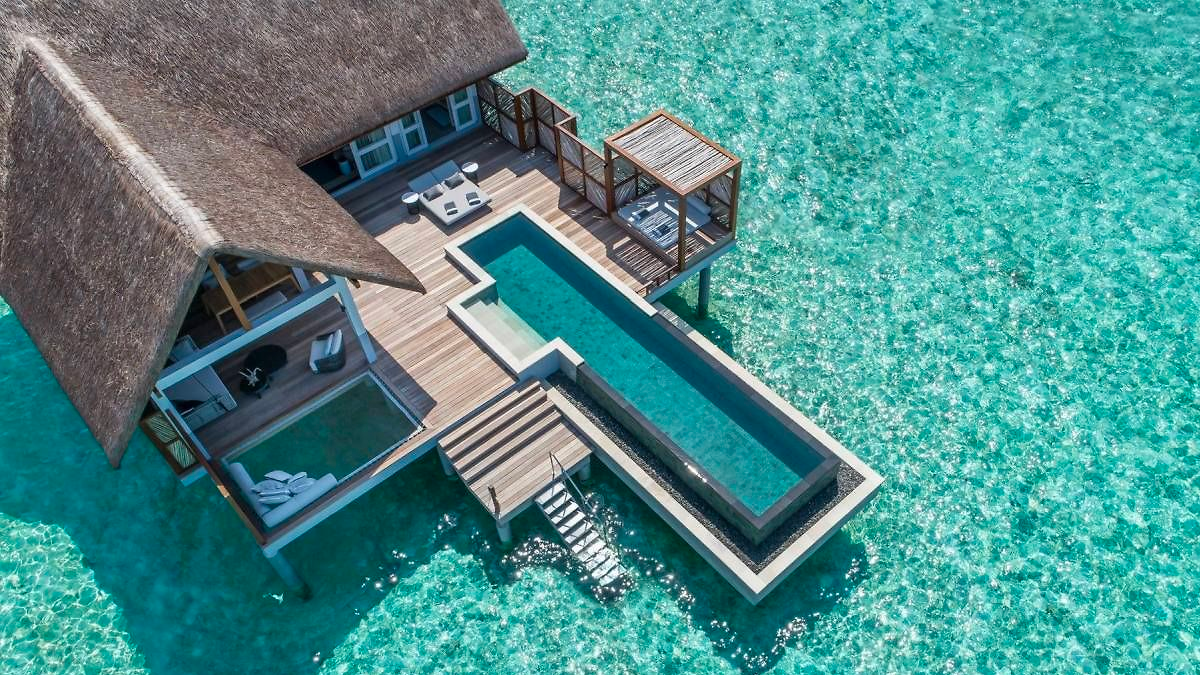 Discover a more intense nature experience at Four Seasons Resort Maldives at Landaa Giraavaru, in the remote Baa Atoll. 
Fringed by one of the Maldives' most spectacular lagoons and surrounded by powder-soft beaches, this 18-hectar private island is home to some of the richest waters in the country. 
Snorkel in the resort's pristine two-kilometre lagoon and enjoy breathtaking encounters with turtles, dolphins, eagle rays, manta rays and juvenile lemon sharks – a sight normally reserved for divers only. Spend your days in the lush surroundings of the multi-award winning Spa and Ayurvedic Retreat, diving in the aquarium-like waters or enjoying specialities such as teppanyaki, Lebanese mezze and tandoori.
The Resort's Marine Research Centre runs pioneering conservation projects on whale sharks, fish breeding, coral reefscaping and supports the only full-time manta ray research project in the Maldives. 
You will have the chance to go on an experience you will never forget as you dive in and watch these graceful animals glide through the water. Children will enjoy learning about the fragile yet breathtaking ecosystem of the Maldives with resident marine biologists, alongside a multitude of activities at the kids' club. Teenagers won't feel left out either, as they get to hang out at Majaa Maizan to watch a movie, play computer games or have a game of pool.
Crafted in contemporary Maldivian style, all 102 villas blend beautifully with their Indian Ocean setting and are beautifully finished and include sundecks and spacious bathrooms.
If you are looking for a truly special retreat, consider booking one of the 30 Beach Villas – located on the south side of the island. With direct access to the beach and lagoon, a 12-metre lap pool, and a loft level offering unspoilt views of the surrounding azure waters, these Villas are not to be missed. 
---
Fairmont Maldives Sirru Fen Fushi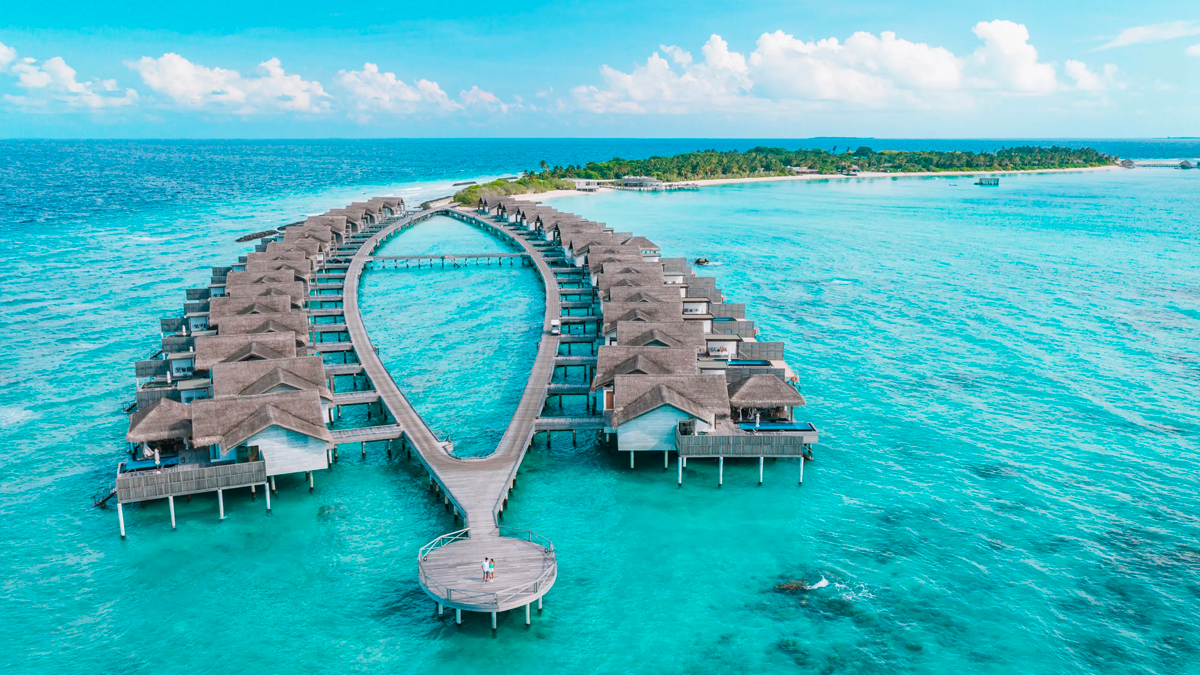 Located within the Shaviyani Atoll and named the 'secret water island' by locals Fairmont Maldives Sirru Fen Fushi is surrounded by palm trees and a 600-hectare lagoon leading to the crystal clear waters of the Indian Ocean. There are 120 Luxury Villas, including hideaway Beach Villas, relaxing Water Villas or even Castaway tented Jungle Villas. You really are spoilt for choice. 
Local and international cuisine are served at the all-day dining restaurant as well as Kata, a Japanese over-water restaurant and Azure, where you can enjoy the freshest fish and seafood. 
For relaxing treatments, indulge at the Willow Stream Spa and there are a wide variety of experiences to choose from, such as sailing, a romantic picnic for two or a dolphin cruise for the family.
---
Ozen Life Maadhoo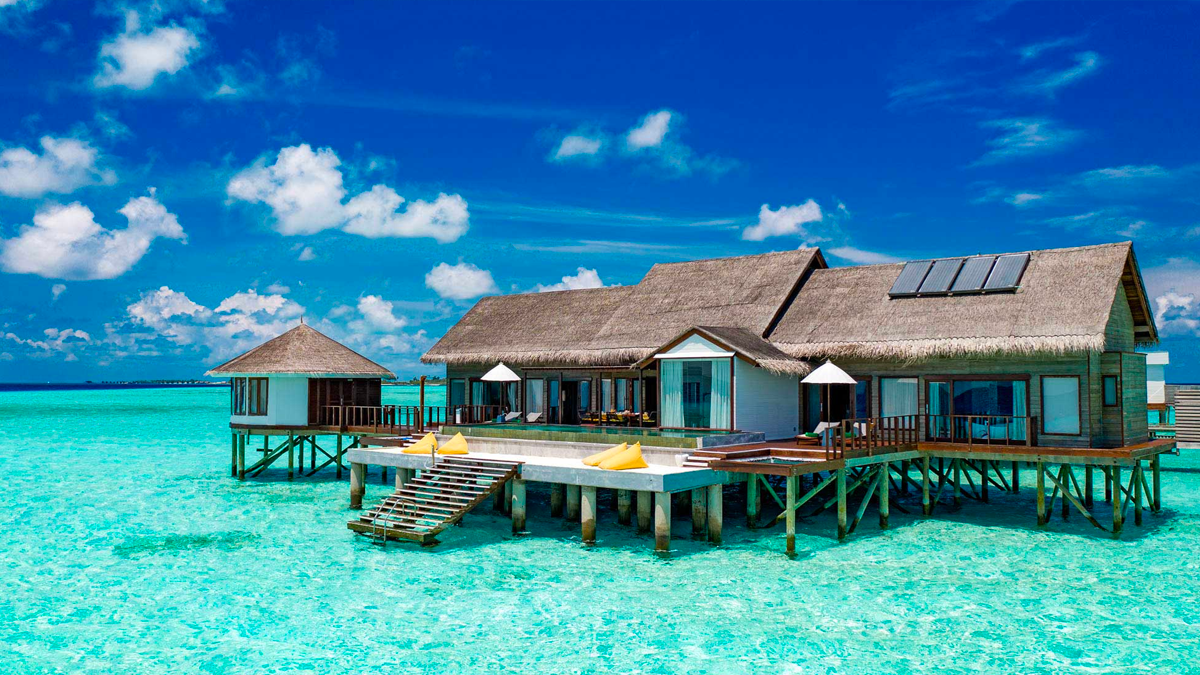 Ideal for a dream family break or a romantic, the resort's unique all-inclusive Atmosphere Indulgence Plan delivers the ultimate holiday experience. 
Guests can discover gorgeous, pure white beaches, stunning turquoise waters, and a host of superb leisure facilities. 
Those seeking relaxation can enjoy lazy days by the pool or on the soft sand, or pay a visit to the spa to revive their body and mind with one of the treatments or massages included in the plan. 
Guests looking to stay active can enjoy the gym, or enjoy a host of thrilling water sports, including snorkelling, scuba diving, canoeing and paddle boarding. 
 The Ozen Life Maadhoo also boasts a selection of luxurious suites and villas to suit all tastes and needs, with some featuring private pools, while others are located over the pristine waters of the lagoon. 
 A divine dining experience awaits with four superb options available, including a magnificent underwater restaurant. 
---
Soneva Fushi
This secluded resort is a true Robinson Crusoe-style barefoot escape with 57 Villas and Suites all hidden among lush vegetation with their own terrace leading to the beach. 
Decorated with the woods and fabrics of Asia they have open-air bathrooms and secluded walled gardens. 
Crusoe Villas have living rooms and upstairs bedrooms. If you are taking some budding adventurers on holiday, one of the Soneva Fushi Villa Suites comes complete with a treehouse-style terrace. 
Alternatively, if you are looking for lots more space, two Sunrise or Sunset Retreats comprise two bedrooms, large pool and plentiful relaxation areas. 
The ultimate Jungle Reserve includes a villa, sitting room, spa suite and treehouse with a slide down to the private pool.
'Foodies' mustn't miss Fresh in the Garden Restaurant, reached by rope-bridge over the banana plantation. You will enjoy a delicious feast prepared from local produce, or alternatively, enjoy a cooking class down in the vegetable garden. As night falls, make your way to Ever Soneva So Celestial. Here, in the observatory, you will be able to get closer to the night sky, by looking through a super high-tech telescope at the craters of the moon and blanket of stars overhead.
---
General Guidance:
• The Maldives is a Muslim country, and if you are not staying on a resort island, you should be aware of local laws.
• Although in practice tourists traveling to the resort islands are usually allowed to bring in religious material for private use public observance of any religion other than Islam is illegal, although the non-Muslim religious practice is allowed in private residences. 
• Alcohol is generally prohibited under Islamic law, and in the Maldives, it is only allowed in resorts.
• Islamic law encourages modesty of dress everywhere in the Maldives, including on resort islands. Bikinis are fine in the resort areas though.
• Homosexuality is against the law however, there have been no issues with LGBTQ+ couples staying in resorts.
• Be extra respectful during the holy month of Ramadan when locals avoid eating, drinking, or smoking from dawn to dusk, and it's rude to ignore this custom.