Days 1 – 4 Dubai
Dubai really has it all. Glitz, technology, beach, shopping, culture and charm. Yes, even charm if you look for it.
The first foray into Dubai was with our private guide who introduced us to Dubai before the glitz and glam lifestyle, back when it was still a Bedouin settlement. We visited the heritage village for a welcome cup of Arabic coffee (not to everyone's taste but it's the sentiment that counts), onto the Souk and gained lots of insights into life in Dubai, both past and present.
Getting around by taxi is incredibly easy, however we had a guide and/or driver for most of our trip to really get the most out of every minute.
Dubai is a spectacle with no expense spared. Whether that's at the awesome Burj Khalifa, the immense Dubai Mall with its own incredible aquarium, the amazing La Perle Show or the super-fun desert adventure experience of desert 4×4 safari and evening Bedouin show. We aren't usually fans of these shows, so often contrived and lacking authenticity, but this one was hugely entertaining. Our guide and driver was terrific and brutally frank about life in Dubai as a foreign worker. It's through these conversations that we learn so much, and what makes travel so important.
Days 4 – 6 Sir Bani Yas Island
After a brief stop enroute at Dubai Parks, we headed out for a couple of nights of Anantara luxe at Anantara Sir Bani Yas Island. Formerly a retreat of the ruler Sheikh Zayed bin Sultan Al Nahyan, it's now a luxury desert island resort just a few hours out of Dubai towards Abu Dhabi. Here we took a couple of days to rest and recharge after dashing around Dubai. Anantara Sir Bani Yas Island is a really special resort. The boys took to explore by bicycle while my daughter and I ticked off a bucket list item with a blue sky beach ride – note to self, take racing goggles next time. It's very difficult to canter a straight line when you have salt water in your eyes!
Later we headed off for another 4×4 Safari, this time to meet the wildlife of the island including the Sudanese cheetah, giraffe and Arabian oryx! This was a really special evening, definitely a memory to treasure.
Days 6 – 9 Abu Dhabi
Dragging ourselves away from the desert retreat of Anantara Sir Bani Yas Island, we travelled onto our final destination, Abu Dhabi.
Our driver dropped us at the Yas Marina for lunch and a look around and where we had a very odd encounter with the local police. A couple of uniformed officers called us over and fearing the worst, we put on our best in a 'I'm sorry, we are British, what I done wrong?' apologetic smiles. It turned out that they were on the hunt for a photo opportunity for their boss who wanted to be seen handing over a leaflet to some non-locals! Utterly hilarious once we realised what was going on, but definitely gave us a worrying minute or so.
Abu Dhabi is for sure the calmer, more elegant and grown-up sibling to Dubai. There is plenty of adrenaline-fuelled fun to be had at Ferrari World and the small plane flyover tour of the city was amazing. But the more refined side of Abu Dhabi was just as breath-taking. The Louvre Abu Dhabi was beautiful (although bored our children senseless), and the Emirates Palace Hotel, the Grand Mosque and the Presidential Palace were all jaw-dropping in their presence, architecture and decor.
But there was also enough downtime. We stayed at the Fairmont Bab Al-Bahr and loved the beachside pool and the sunset view across to the Grand Mosque, although the seawater did leave something to be desired. But you can't have everything.
---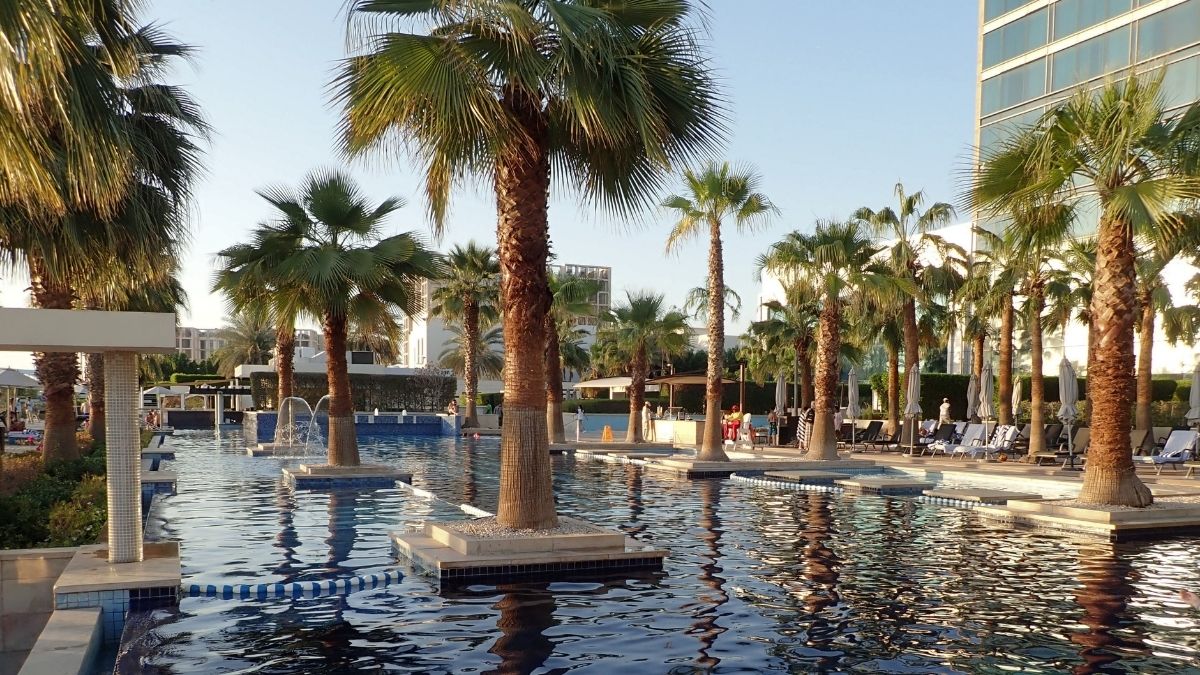 ---