DAY 1
After the journey from Heathrow, via Nairobi, to Kilimanjaro airport, we boarded the last leg of our journey, the one-hour flight from Kilimanjaro to Seronera Airstrip in the Serengeti National Park. On arrival, we were met by a camp vehicle for the hour-long game drive to the Asanja Moru luxury bush camp, and that is where the adventure began! In that hour, I spotted giraffes, impala, hippos, leopards, hyenas and an elephant as well as the last of the wildebeest and a zebra migration making its way south for the winter.
Asanja Moru is located in the southern part of the Serengeti, set in an idyllic African oasis with private game drives hosted by trained professional guides. All the staff are locals and their hospitality is legendary. The tents are spacious with a shower and flush toilet, and picturesque decking overlooking the plains. 
The camp offers several bush dining experiences, in-room massages and an option to 'sleep under the stars'. There is also complimentary laundry and wifi in the main mess area. 
After enjoying lunch in the bush, we went on another quick game drive before returning to camp for dinner. In the evening, we had a huge thunderstorm, and the flying termites were attracted to the lights of the mess tent but we coped well! Didn't stop us trying the local Tanzanian gin and tonic and Amarula (a delicious cream liqueur from South Africa) though!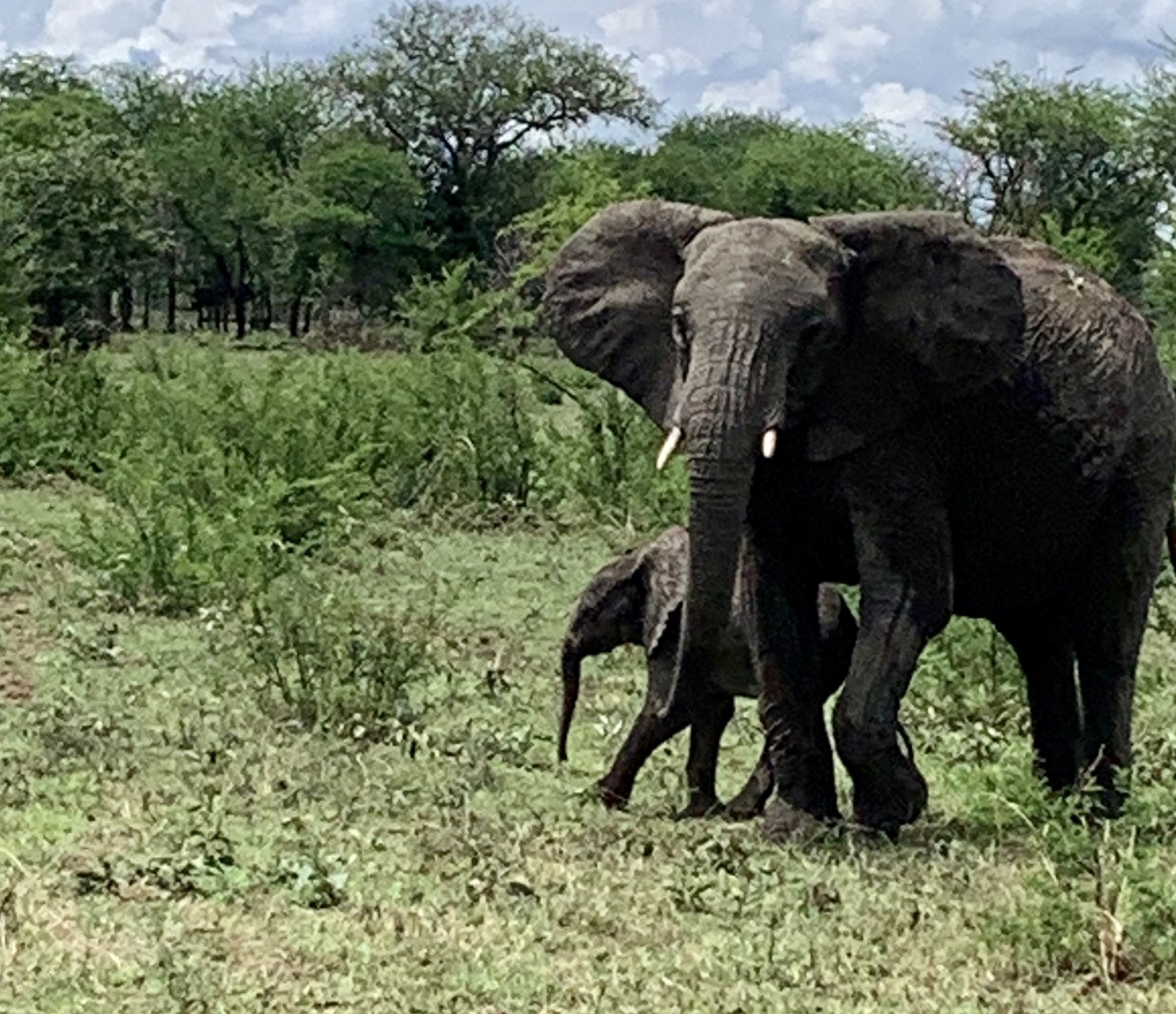 ---
DAY 2
This morning, we had an early morning wake up call for a 06:30 game drive to see the sunrise. We saw 11 lions, including five cubs eating a kill and two mating! Afterwards, we were surprised by a delicious breakfast in the bush.
We went out again after breakfast and saw two more leopards, buffalo, waterbuck, warthogs, lots of birds and a couple more lions. We travelled through the Kopjes and stopped at Rock Gong, the 'Bell Rock' of the Serengeti, which is 'played' by banging the holes in the rock face with smaller rocks. So much Masai culture in one place with rock paintings in the caves created by the Masai warriors known as Morans.
On the way back to camp, we saw another three lions and a lot more impala and zebra.  After a late lunch, we went to Magaldi Lake where we found beautiful pink flamingos standing in front of a gorgeous sunset over the water. The rain was so powerful that we got stuck in the mud on the way back to camp, but we returned safe and sound in time for a dinner under the stars just as the rain stopped. Drinks around the fire followed, along with a battle with the most amazing bugs tonight – they are so beautiful!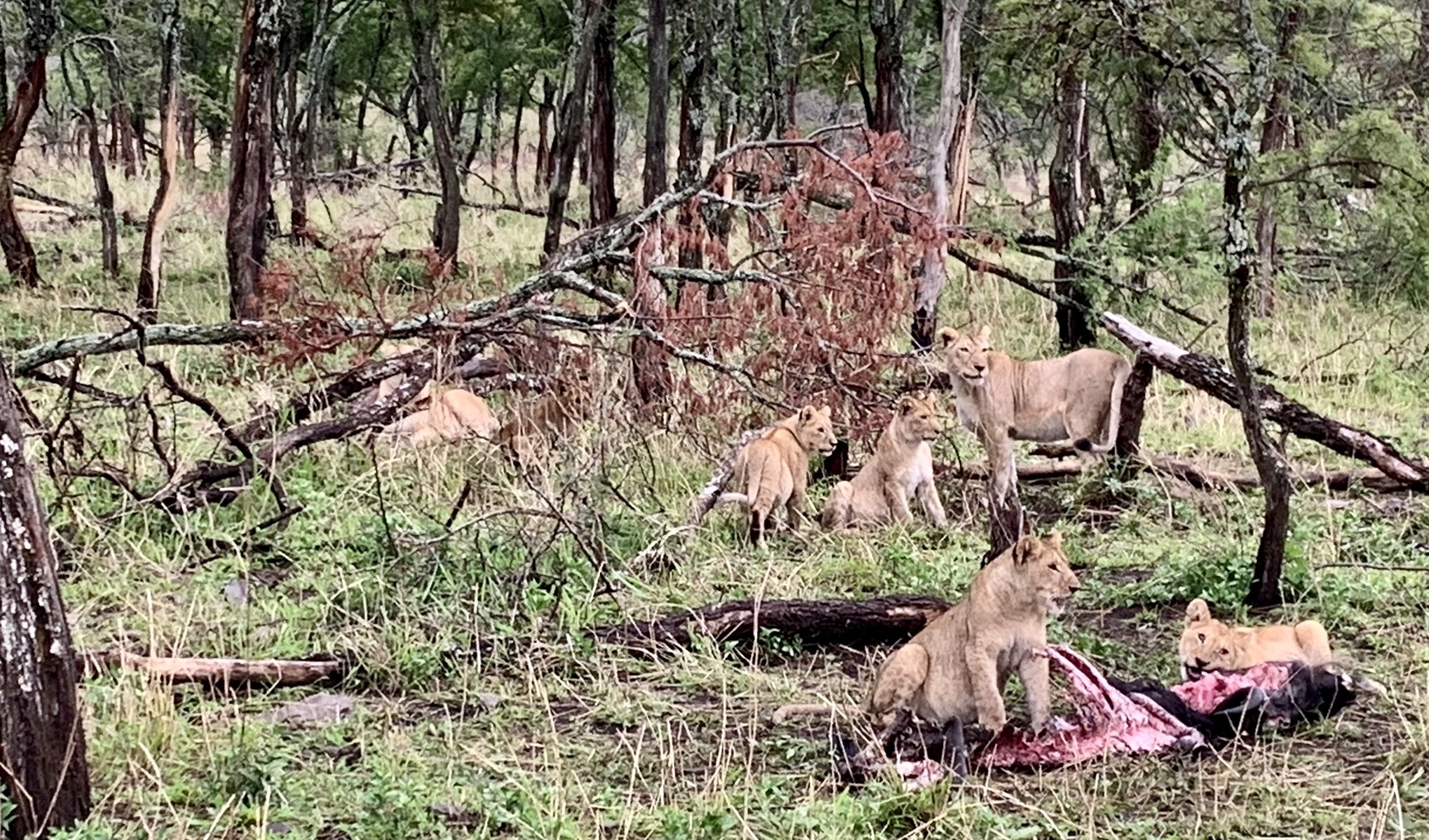 ---
DAY 3
Another early morning today as we started the three-and-a-half-hour journey to the Grumeti game reserve. Travelling through central Serengeti, we saw more lions but we didn't stop as they were surrounded by at least 10 vehicles – what a shock to the system seeing so many cars staring at the animals! In Moru, we were one of only two camps, so we rarely saw any other vehicle. It really was a wake-up call to where is the best place to stay in the Serengeti and it wasn't even mid-season when it would have been a lot busier! 
We stopped to watch the migration again which was fascinatingly loud as hooves crashed on the ground. We passed a huge pod of hippo, hyenas and, when we reached Grumeti, so many elephants – just what I'd been waiting for! They were so beautiful, with babies to protect and waterholes to bathe in. 
In time for lunch, we arrived at Asanja Grumeti, a small intimate camp with three wonderfully furnished tents with a bath and outside shower. The views from the tents overlooking the plains are excellent and we saw some of the migration right in front of us. I can only imagine how incredible the views of the main migration would be from the 'front door' of these tents! The camp also offers private game drives, walking safaris and 'under the stars' camping. We visited the site of the new Asanja camp, due to be completed in August, which offers a little more luxury – these will be lodges rather than tents and will definitely be stunning when complete.
The journey back to camp was incredibly long and very wet. The open-sided vehicles weren't the best for this long journey, but we kept warm drinking Amarula in the truck. On the journey, we saw a hippo right up close to the vehicle which shocked all of us! That night we had a barbeque dinner under the stars in camp – the perfect end to a long day.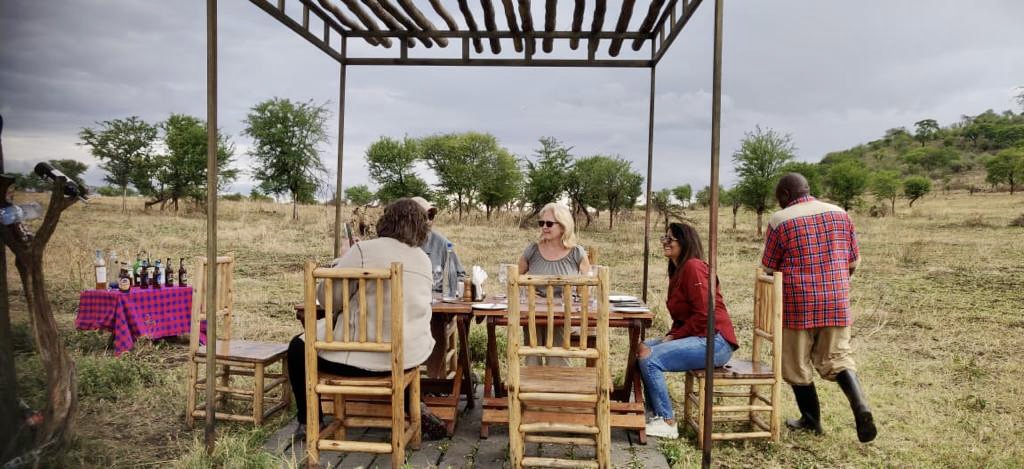 ---
DAY 4
After saying farewell to the camp, we drove back to the Seronera airstrip and flew the short distance to Ruaha National Park in Southern Tanzania. This Park is twice as large as the Serengeti and a lot quieter, with fewer camps and vehicles. The land here is vast, dry and wild so it is not as easy to spot the game but we still saw loads. Asanja Ruaha is a one-hour drive from the airstrip and, on the way, we saw impala and giraffes. The camp is more luxurious than the Moru camp, with indulgent lodges created to look like tents. The camp itself overlooks the Ruaha River (which is currently dry) and offers a shared pool next to the mess area. Each of the luxurious lodges offers their own plunge pool and outside shower. The rooms are huge and open-plan – amazing but it may cause a concern for families as the bathroom does not have a door! The outside patio for each room not only has private pools but also offers idyllic seating for sundowners and game watching. 
After lunch, we were treated to a sundowner on the hill overlooking the valley before going out on a night-time game drive which was the best I have ever been on! First, we found some lions with cubs stalking some buffalo – we followed them for a while and were a little scared when we realised the buffalo had surrounded the vehicle as they were threatened by us… It was an impressive sight with all these eyes upon us until they ran away, to be followed by the lions. We were then lucky enough to see three porcupines – these are so hard to find normally so we really couldn't believe how blessed we were to spot them. We then saw another hard-to-find animal: the bat-eared fox, as well as some jackals. We finally got back to camp at 22:30 for a very late dinner – but boy was it worth it!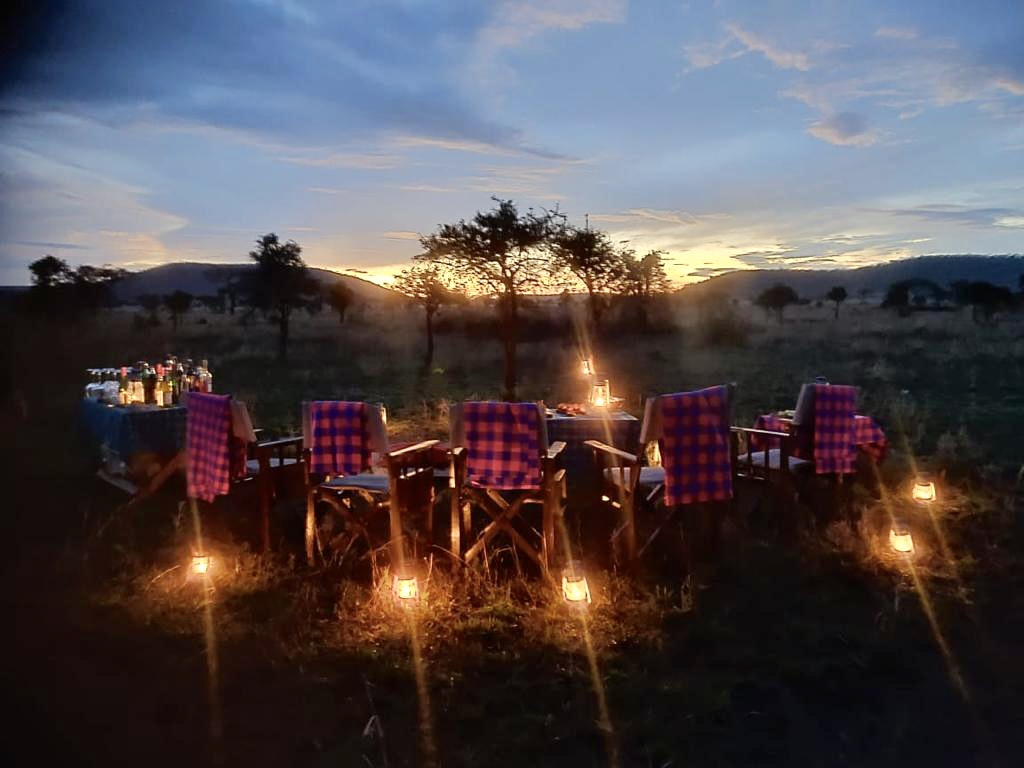 ---
DAY 5
Following the late night, we had a 6am wake up call for another game drive. We watched a beautiful sunrise while on a mission to spot cheetahs, but alas this was one creature we were never going to spot – I'll just have to come back another day! We did see more giraffes, impala, baboons, leopards and a small herd of elephants though so we definitely couldn't complain! Back at camp, we had a lovely breakfast overlooking the dry river followed by a couple of hours to ourselves to enjoy our rooms, have a dip in the plunge pool or take a little well-deserved snooze!
Following a lovely lunch at the camp bar (every meal was always three courses, we ate so much!), we embarked on a walking safari across the riverbed. We learnt loads about all the different species of trees, recognising animal tracks and deciphering what each animal's poo looks like! Did you know hyena poo is white because they eat bones? We were introduced to the toothbrush plant (or the salvadora persica), which does indeed look like a toothbrush, and was also used as one by the Masai before toothbrushes were invented. We found a python tree which wraps around another tree to protect and support it and a lion's tail bush (or a leonotis leonurus), which looks like a lion's tail, believe it or not. Another fact: only lions have the fluffy end to their tail, all other cats have straight, clean and sleek tails. 
Following our walk, we came back to a wonderful barbeque – we'd seen them cooking a pig on a spit and a goat's leg hung above an open fire this morning, so we were looking forward to this. What a spread! They really know how to take care of us, this was a perfect last supper overlooking the sunset. Our final game drive in the dark park treated us to an amazing view of an aardwolf (a species of hyena) and another porcupine! We were treated to a little stargazing experience out of the truck too, even though most people aren't allowed to get out of the truck at night. 
We returned to a fabulous party environment, where the staff sang their traditional 'Cutta' song for us (as a toast to cut the cake) and encouraged us to join in with the dancing! Plenty of drinks and cake shared and we felt obliged to return the gesture, so of course we sang 'I want to break free' back at them!
---
DAY 6
We felt sad to be sharing a last breakfast together, consisting of donuts (Mandazi), leftover goat and eggs any way you wish. A final rush to catch our flight ensued, so we didn't have time to stop and gaze at any more animals, but we had definitely seen enough in our six days here! A 50-minute drive to the airstrip and a two-hour flight via Zanzibar to Dar es Salaam, where we caught a further flight back to Nairobi and finally on to London. Truly a trip of a lifetime!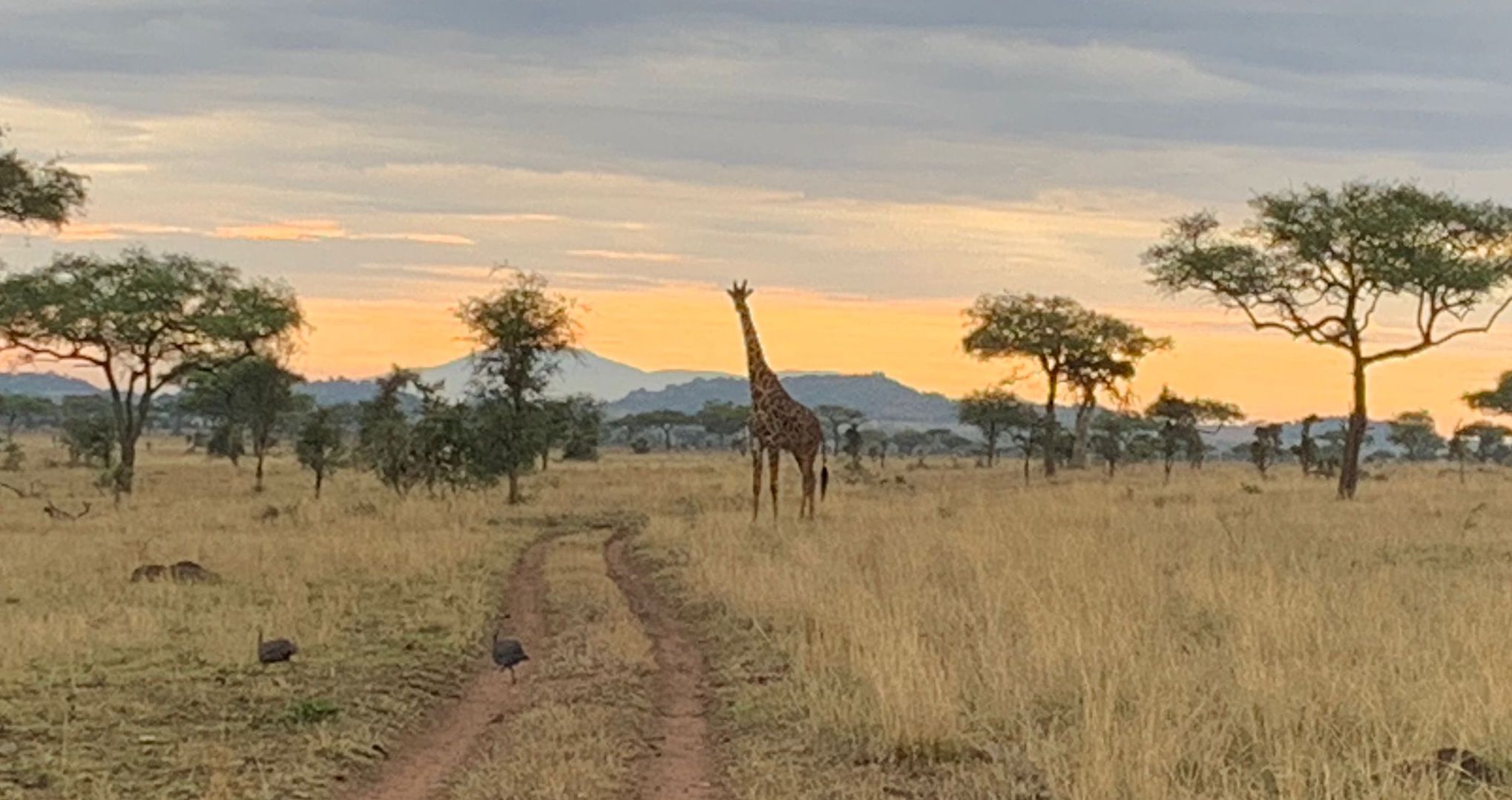 ---