The perfect luxury hideaway
Set against the visual drama of a secluded bay, Daios Cove Luxury Resort & Villas nestles on a hillside on the beautiful northern coast of Crete. From every angle, the views are sublime: the calm turquoise sea of the quiet cove, spectacular verdant slopes, lush terraced gardens, a yellow crescent of private beach and a wide expanse of azure sky.
Daios Cove is minimalist, modern, chic and sumptuous with a carefully created designer style. Its elegant and sophisticated architecture has been crafted from the natural environment, sculpted out of the hillside rock. Every stone has been traditionally hand-carved and reclaimed, blending Daios Cove beautifully into its picturesque rural surroundings.
Daios cleverly combines five-star luxury and a select ambience with impeccable, friendly, always accessible service. Guests have a choice of luxury villas, rooms and suites (many with their own private sea water pools), six restaurant and bars, fitness centre, wellness sanctuary and kids club.
All rooms, suites and villas feature a floor-to-ceiling windows, a King-size bed with pure Egyptian linen bedding, feather and memory foam pillows, a satellite cable television, LCD satellite TV, Wi-Fi, minibar, coffee and tea-making facilities, safety box, air-conditioning/heating, exclusive bathroom amenities, bathrobe, slippers, hairdryer, laundry and 24-hour room service. Suites and villas also feature a Nespresso coffee machine.
Deluxe room sea view
Elegantly-designed, the Deluxe Room offers amazing views of the dazzling waters of the cove. Consisting of one spacious bedroom with an open-plan living room, a lavish marble-lined bathroom with a separate bathtub and shower cabin, and a private balcony with rattan furniture.
Deluxe room sea view with individual pool
With all of the above, this exquisite Deluxe Room also includes a private balcony with rattan furniture, a double sofa, two chairs and a round table, leading to an individual sea water swimming pool.
Deluxe junior suite
The spacious suite in open-plan style invites guests to relax and enjoy quality time outdoors on the private terrace with rattan furniture, two sun loungers, two chairs and a round table. Boosting that sense of openness within the suite are the floor-to-ceiling windows as well as a lavish marble-lined bathroom with a separate bathtub and shower cabin.
Deluxe junior suite with individual pool
A sophisticated suite, consisting of one generously-sized bedroom with open-plan living room and a lavish marble-lined bathroom with a separate bathtub and shower cabin. The private balcony leads to an individual sea water swimming pool and Fatboy floating beanbag.
Premium junior suite with private pool
This suite spaciously combines a seating area and bedroom in an open-plan style, providing the absolute equilibrium between subtle luxury and homely familiarity. It also features a marble-lined bathroom with separate bathtub and shower cabin and a generous terrace with private sea water pool, overlooking Daios Cove.
Waterfront one bedroom villa with private pool
Located at the waterfront overlooking the cove, the one bedroom villa is designed to inspire, featuring a spacious bedroom, airy living room with dining corner, bathroom with separate bathtub and shower cabin. Villas also feature a pillow menu, Wireless Speaker System by Harman/Kardon, stereo system with CD player, electric curtains, and a double storey, spacious and private sundeck area with a sea water swimming pool.
Two bedroom villa with private pool
This villa features two expansive bedrooms each with their own bathroom, separate bathtub and shower cabin, and an airy living room with dining corner.
Two bedroom wellness villa with private pool
The two bedroom Wellness Villa offers the ultimate wellness experience with a specially designed area including Finnish sauna, Technogym treadmill and oversized bathtub. This villa features two grand bedrooms, each with its own bathroom, separate bathtub and shower cabin, an airy living room with dining corner, and an outdoor shower.
Three bedroom villa with private pool
Designed to feel like a home away from home, this exclusive villa features three ensuite bedrooms, floor-to-ceiling windows, and an airy living room with dining corner.
Daios Mansion
The Mansion at Daios Cove is a marvel of modern architecture, built with natural materials that complement its spectacular hillside location. Easily Daios Cove's most sumptuous and elegant accommodation, the mansion offers guests all the charm of a sophisticated villa, but with a lavish twist. Opulence, comfort, attention to exquisite detail and a range of personal services — including a dedicated concierge — means Daios Mansion is unlike any villa you've experienced before. Its indoor space is vast (600sqm on three levels) and includes a plush open-plan living area, three bedrooms, an outdoor heated pool, staff quarters and a private spa with indoor heated pool, sauna and massage area.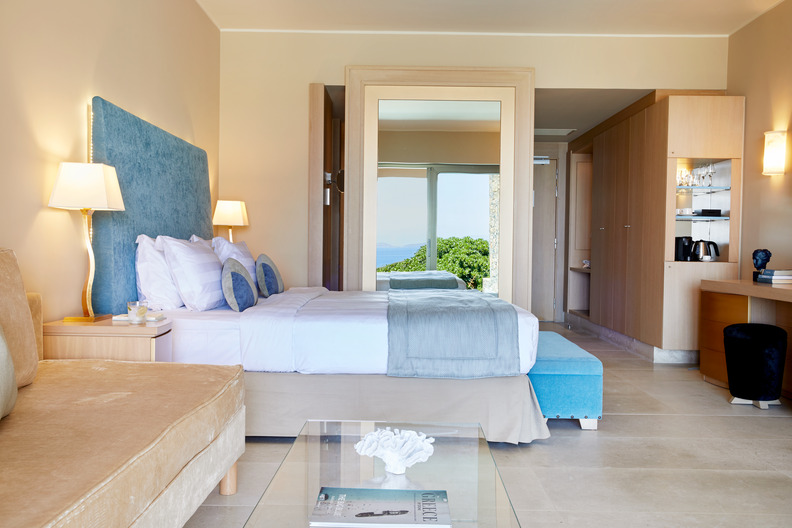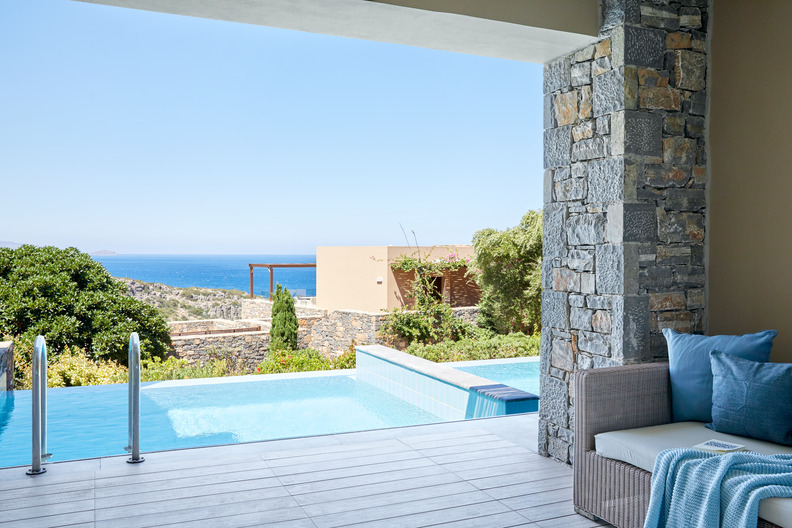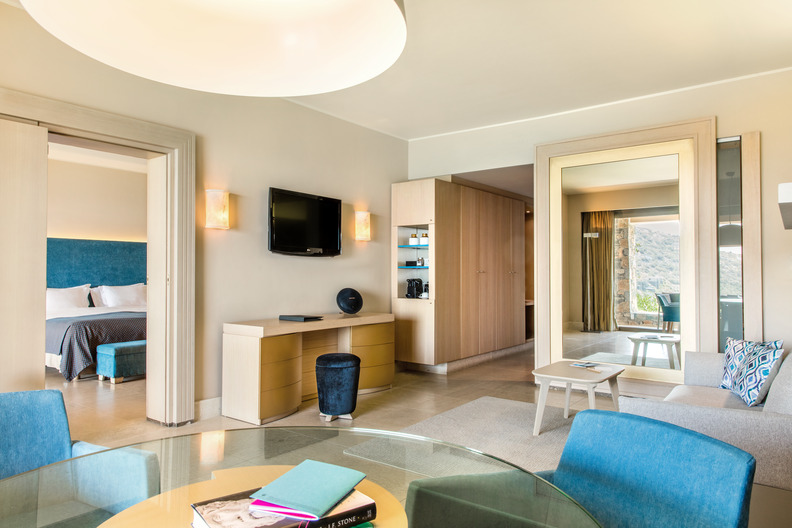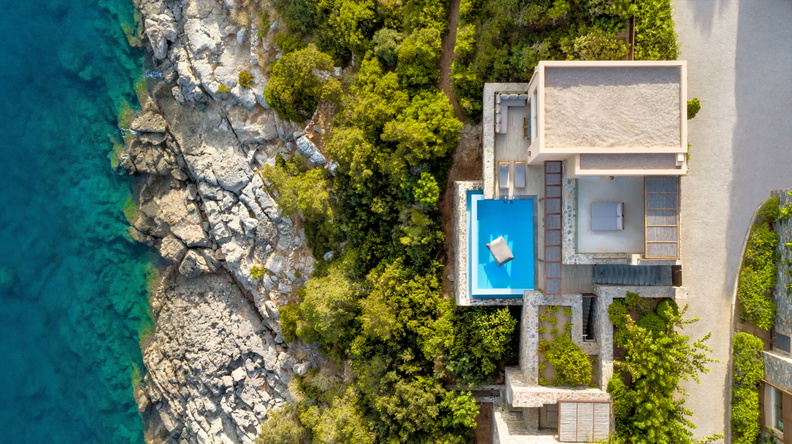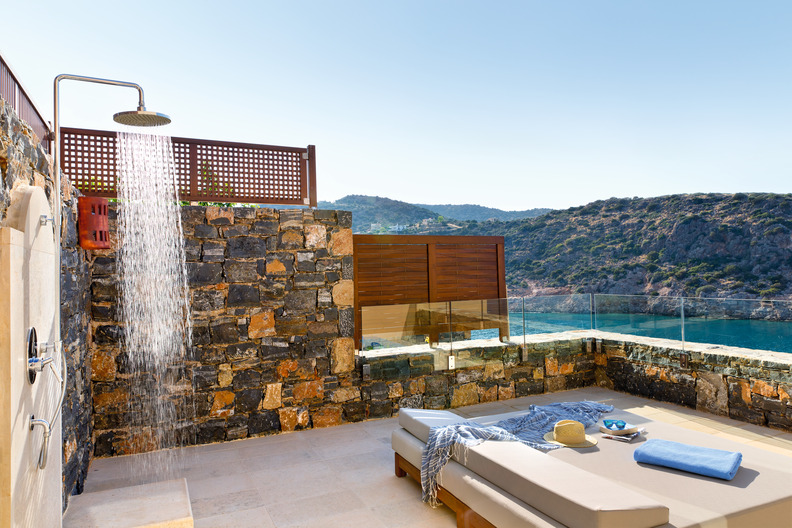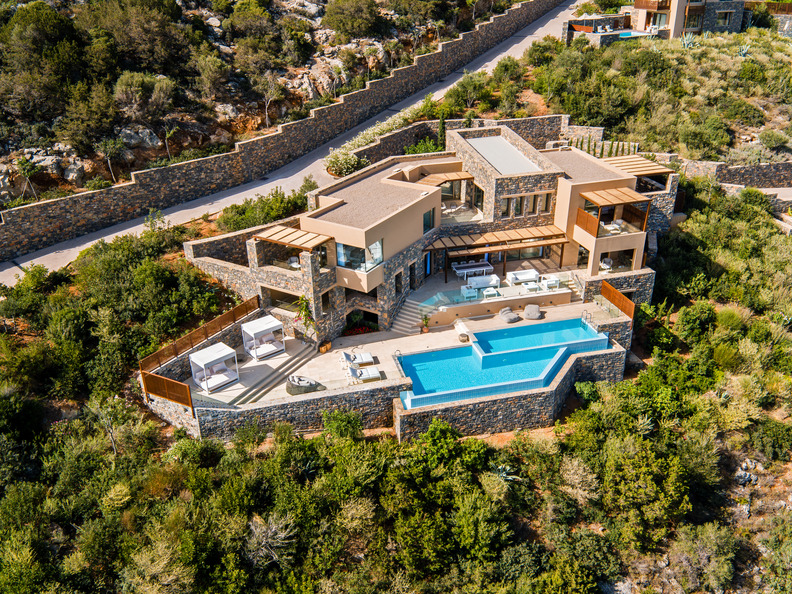 Glamour and suave at the dinner table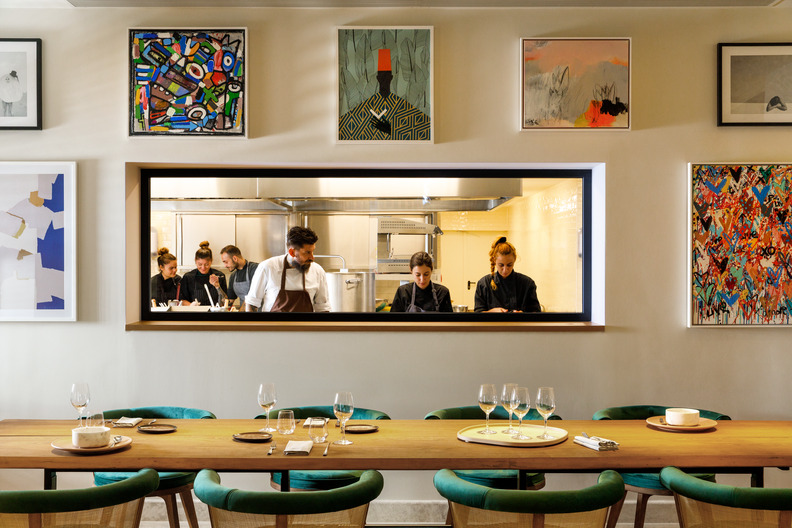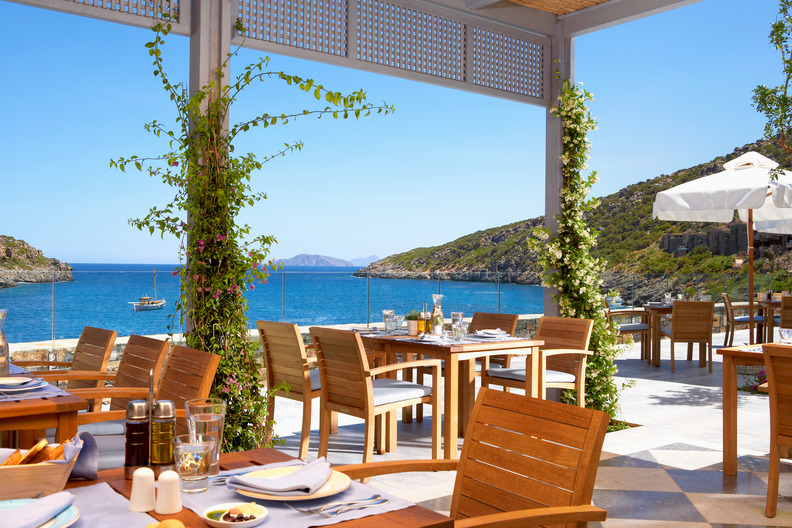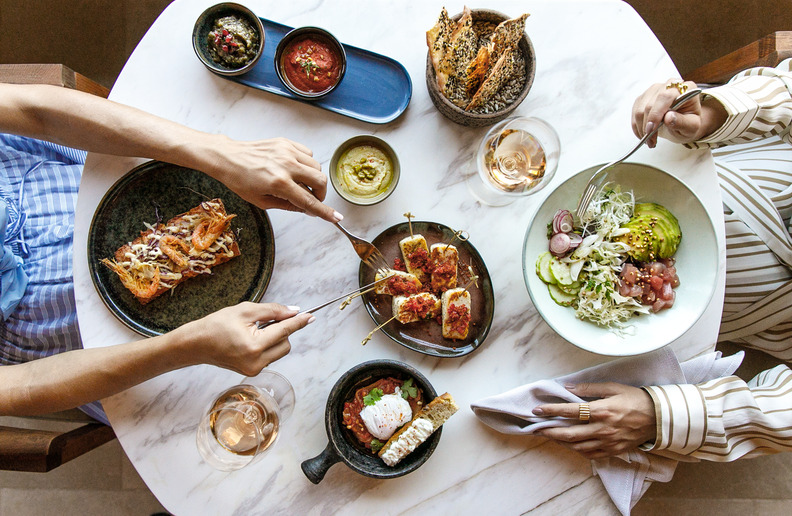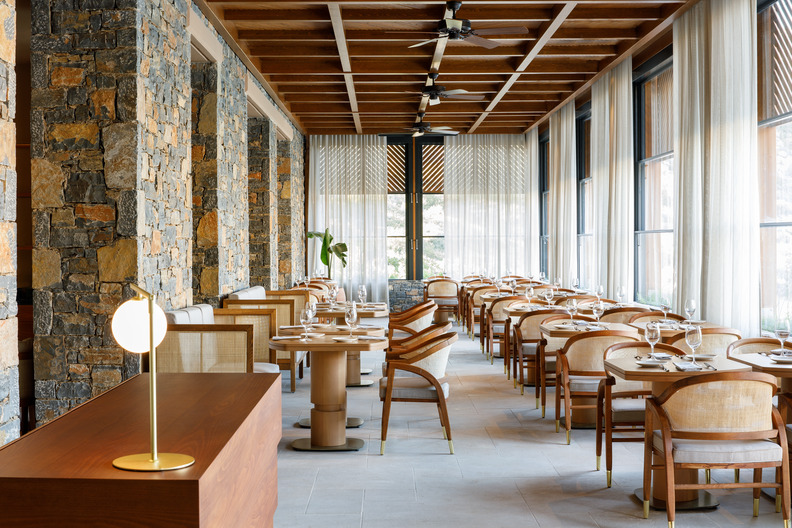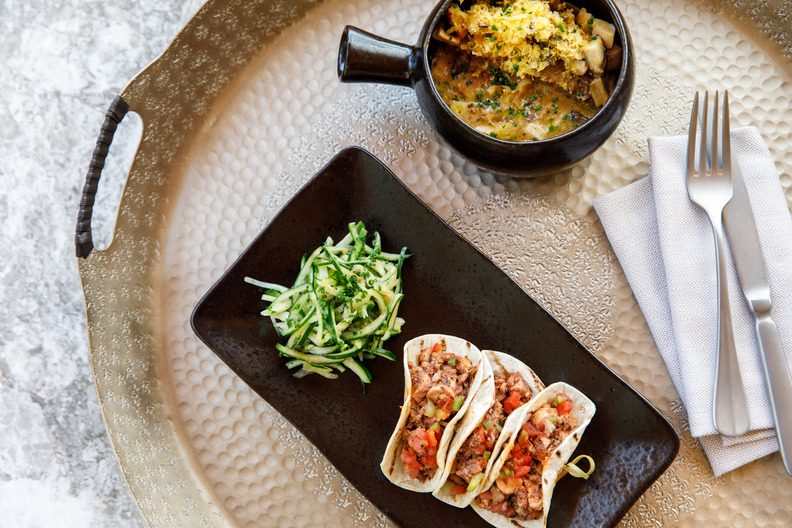 OCEAN RESTAURANT
A fresh oasis of bold colour, life and warmth, the Ocean Restaurant offers an enhanced sense of understated
luxury, inferring glamour and suave. The courtyard and terrace overlooking the bay make one feel as though suspended in mid-air. The menu is meticulously curated by the exceptional team of award-winning Ducasse Conseil drawing inspiration from the Greek sea and land. The extensive wine list is curated by Daios Cove's in-house sommelier and signature cocktails are created by top mixologists, The Clumsies (voted 4th in the World's 50 Best Bars in 2021), rounding off a sophisticated, vibrant dining experience.
OCEAN BAR
The Ocean Bar is an effervescent space where the infinity pool, bar, lounge and relaxation areas all blend in seamlessly to create a carefree ambience on holiday. Indulge in the sublime cocktail list created by award-winning mixologists, accompanied by mouthwatering light bites by Ducasse Conseil.
Pangea
Enter a classy yet modern space for breakfast and dinner. The buffet here is one to write home about – a selection of international flavours and tastes including a large selection of vegan and vegetarian options. The Cretan dishes and grill corner are guest favourites.
Taverna
The award-winning restaurant of choice for a true taste of Greek creative cuisine with contemporary flair. Encompassing everything we love about classic dishes, the Taverna is destined to make your taste buds sing – with a fresh catch of the best local fish daily.
The Beach House
Located on the isolated coastal cove of the resort this venue invites you to indulge in a luxurious yet unpretentious lifestyle. Chefs fuse simple Mediterranean ingredients creating mouthwatering dishes, destined to stir the senses, nourish the soul and immerse you in the quintessential Cretan way of vitality and simplicity.
Crystal Box
The Crystal Box is a bar with its own contemporary and comfortable outside lounge, offering a spectacular panorama of the bay — the perfect place to sit, sip a signature cocktail and unwind. You can also relax in its cool, stylish and elegant interior, and see those incredible views from another perspective: framed through dramatic floor- to-ceiling windows.
Firefly
Ease and comfort in privacy are key when staying at the Cove – Firefly In Room Dining is available 24/7, boasting a menu brimming with mouthwatering flavours. Don't miss out on some especially delectable bites from the Wellness menu and Kids' options.
Candlelit dinners
Private candlelit dinners can also be arranged for guests who would like a special meal in their room or under the stars.
KIDS MENU
The kids on holiday are in for a special treat with Ducasse Conseil who create an exclusive menu with an array of options for all tastes. Catering for babies, toddlers and older children, the talented team of experts in the kitchen put a delicious spin on some all-time classic food the kids will simply love.
CULINARY SCHOOL
A sense of knowledge and skill improvement is embodied in the minimalist Culinary School complemented by the inspirational cove setting. Cutting-edge equipment and technology are in place to introduce guests to the art of exceptional professionals in the gastronomy sphere from all over the globe. In this immaculate area, guests may also host a private dinner with our chef, enjoy a wine tasting by exceptional wineries and sommeliers or join tea masterclasses with experts in the field.
What to do first? At Daios Cove there's an endless supply of top-class sporting activities to amuse guests of every age, from water-skiing, pedalos, canoeing and scuba diving to tennis, fitness training, yoga and pilates. There's also a full range of entertainment available, including tailor-made excursions to the most famous places on the island, and in-resort cookery workshops, cocktail- making lessons and wine-tasting sessions.
Plus, when the hot sun goes down, there's a cool programme of DJ nights, dancing and live events, with guest artists playing latin, funk, soul, jazz and traditional Mediterranean and Cretan music under the stars. By land or by sea, Daios Cove offers the opportunity to blend familiar favourite activities with fascinating and exciting new experiences.
Explore Crete
In Crete — the biggest of all the Greek islands and the fifth largest island in the Mediterranean — epic, world-famous history is all around you. Crete is a cauldron of creativity, both ancient and modern. Here, ancient frescoes, imposing fortresses and fascinating Greek mythology sit side by side with pretty fishing villages, bustling shopping thoroughfares, cosmopolitan cafés and vibrant nightlife. Crete also has its own distinctive Mantinades poetry and Mantinades-based folk music and is known for its many indigenous dances, including the famous Pentozali.
Daios Cove can arrange tailor-made excursions upon request: to see the archaeological site at Knossos Palace or the spectacular island of Spinalonga, for instance — plus sailing or catamaran trips exploring the northern coastline. Ancient sites include Kritsa, a unique community of Cretan people with their own traditions, Island Chrissi, an uninhabited location off southern Crete, known for its white beaches, the Archaeological Museum of Heraklion and Mochlos, an uninhabited island and ancient Minoan settlement off the north east coast.
Water sports centre
With expert tuition and supervision from our trained water sports staff, guests can take a trip around the bay in canoes, kayaks and pedalos or have fun on water- bikes and stand-up paddle boards. Private yachts, motorboats and catamarans are available for rent and sail, too. The diving centre features approved coaching from trained PADI diving professionals for all levels, from beginners through to expert. Underwater excursions, including a visit to a shipwreck, are also available.
LUXURY RIB BOAT
Embark on an exciting adventure and experience the Mirabello Bay from a different perspective aboard our Technohull
private speedboat. Large enough to provide the comfort and entertainment you expect on your cruise, yet intimate enough to tailor-make your trip to create a sea journey to remember.
KEPOS BY GOCO
Kepos by Goco is inspired by the real-life garden, created in Ancient Athens by the Greek philosopher, Epicurus, as a safe haven for dialogue and open discussion. Epicurus' Kepos is the original learning hub where the philosopher read and taught the art of happiness. Discover an unparalleled sensory experience combining a holistic approach to health with innovative medical technology. Wellness rituals feature luxury brands 111SKIN and [ comfort zone ], all delivered in a 2.500sqm tranquil sanctuary with uninterrupted views across the bay. Experience pure relaxation and absorb the cleansing properties of water in the Thermal Bathing Suite complete with Finnish and soft sauna, shower walk and steam room. Move through to the spacious Vitality Pool combining full body with neck and back massage jets and benefit from the soothing feeling of water on your skin.
Child Care & Kids Club
Babies and toddlers are supervised in the Crèche Club by UK childcare experts Worldwide Kids Co, with qualified nursery staff meeting UK standards and regulations. Older kids can check in for fun at the well-equipped Children's Club where friendly, highly trained multilingual staff will make them feel at home. For 'hard-to- please' teenagers, the Games Room is fully equipped with classic team games, pool billiards, table tennis as well as the latest in video gaming. Plus, the Pangea restaurant opens an hour before official dining time so that children can enjoy the Kids' Early Supper under the supervision of Worldwide Kids Co staff. The Cove is geared up for families, with a child-friendly beach and babysitting services.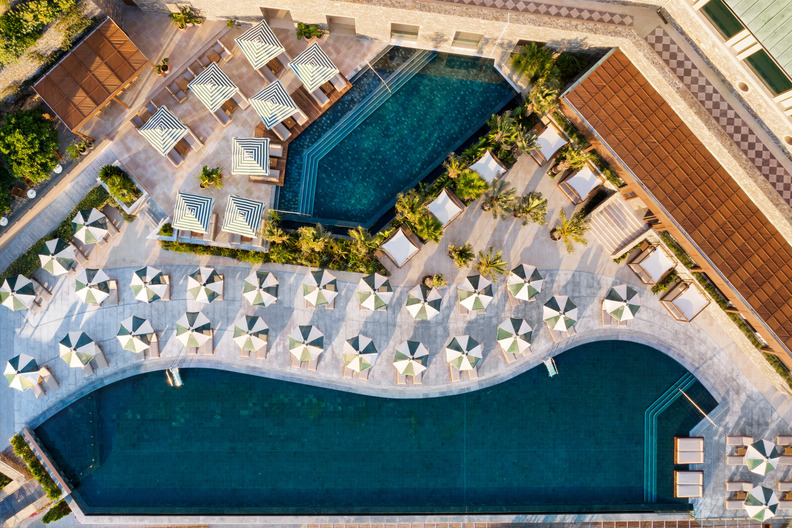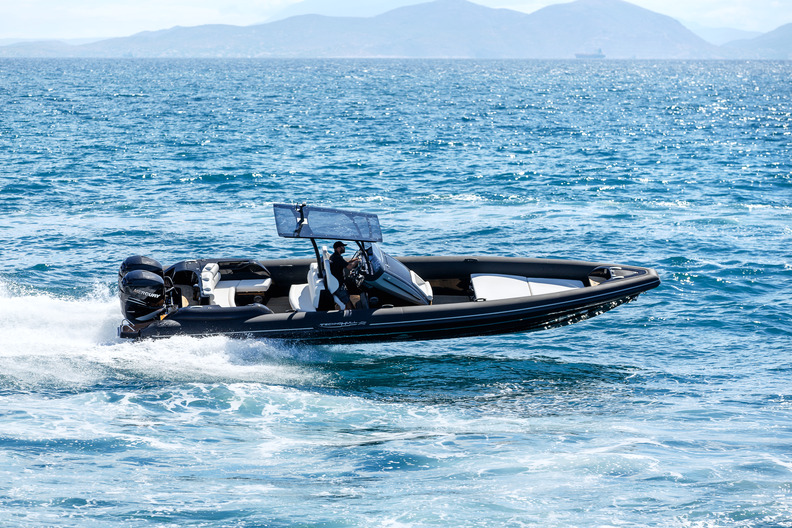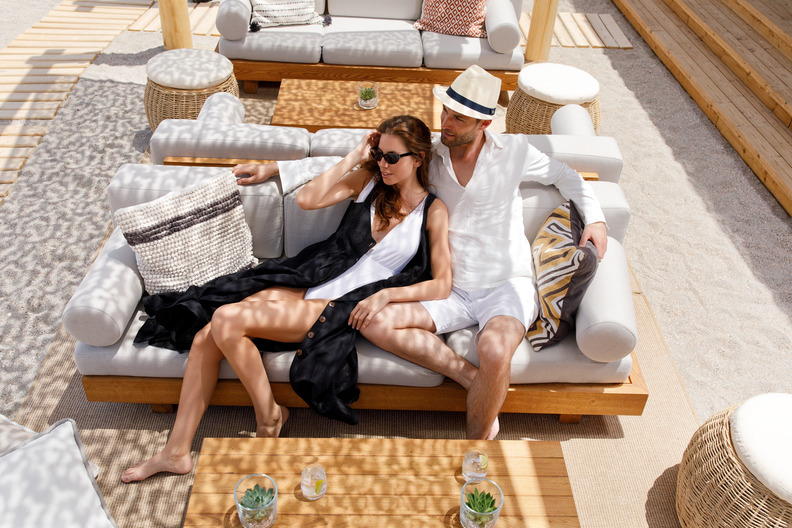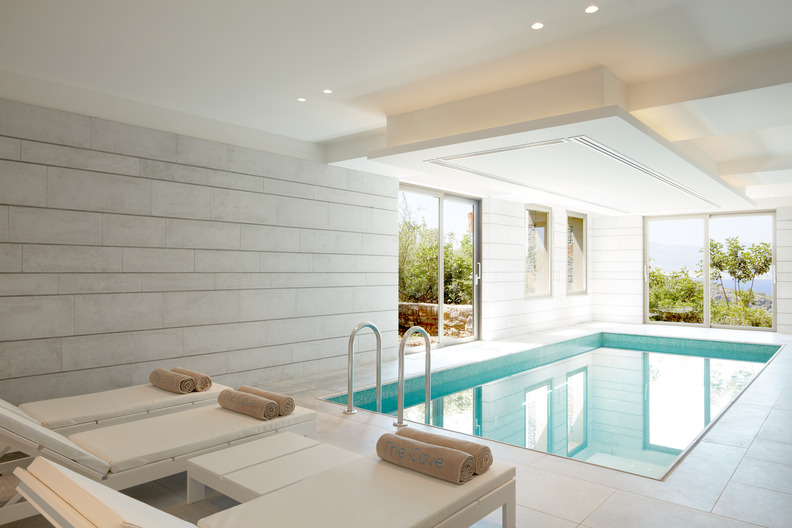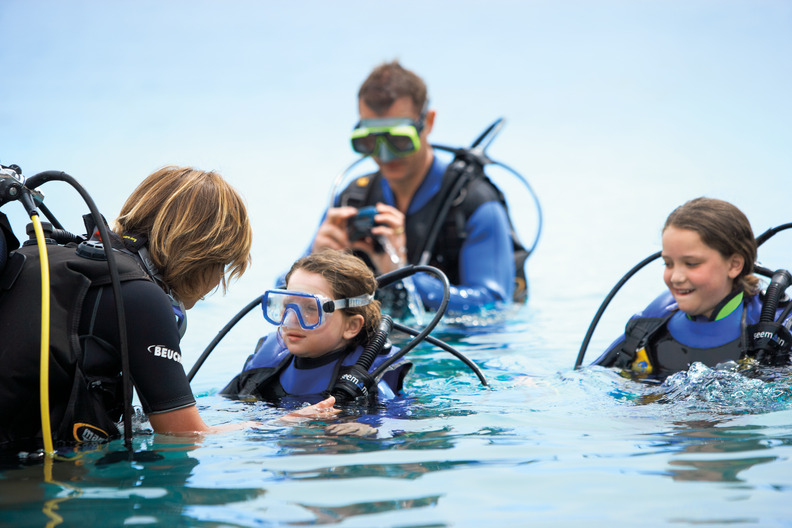 Map and travel information
Daios Cove is easily accessible from Heraklion International Airport, and a short drive from the sightseeing centres of Aghios Nikolaos and Elounda village.
65km / 40mi from Heraklion International Airport (50 min drive)
70km / 43mi from Heraklion port (60 min drive)
7km / 4mi from Aghios Nikolaos (10 min drive)
15km / 9mi from Elounda village (20 min drive)
Under four hours from most European airports
With its typically temperate Mediterranean climate, Crete is lucky to enjoy year-round sunshine, mild weather and high temperatures. The seasons can be roughly split into two: a dry and hot summer from May to October, which is perfect for sun-worshippers and mild heat-lovers. During high season — July and August — it's not unusual for temperatures to reach between 30°C and 35°C. The milder winter, from November to April, can be rainy at times and cooler at night. Even in November, however, temperatures can climb to 20°C.
Spring-time or early in the summer season is a good time to sightsee and enjoy the diversity of Crete's fauna and flora. From its spectacular gorges to its orange and olive groves; from its green mountain slopes to its beautiful beaches, Crete offers something for everyone.
Call us
Speak to our team:
Email us
Visit
Monday – Friday: 9am – 5:30pm
Saturday: 10am – 4:30pm
1 Market Place Mews,
Henley-on-Thames, OXON RG9 2AH