Paradise on Earth
Hidden away amongst coconut palms, 64 pool suites and villas dot the lush grounds of this idyllic Koh Phangan resort. Designed with the utmost privacy in mind, each suite or villa has its own pool for the ultimate island experience. Revel in laidback luxury paired with signature Anantara comforts, including Netflix and Apple TV. While away your days on your private sundeck, kissed by ocean breezes.
Suites
Choose your setting, from second-floor perch overlooking the ocean, to garden hideaway or beachfront bliss. While away the days by your private plunge pool, basking in glorious island sunshine. With 80 to 110 square metres of indoor and outdoor space and a choice of ground or second floor suites, experience the ultimate luxury tailored to your preferences in a garden, lagoon or ocean view suite.
Villas
Standalone pool villas epitomise island luxury, with ample outdoor living spaces in garden or beachfront settings. Decorated in tropical Thai style, each villa is ensconced in a palm-fringed courtyard for maximum privacy. Ranging from 180 to 220 square metres, these one or two bedroom villas are spread over one or two storeys. Choose a garden or ocean view in your very own villa with a private courtyard, plunge pool and sundeck.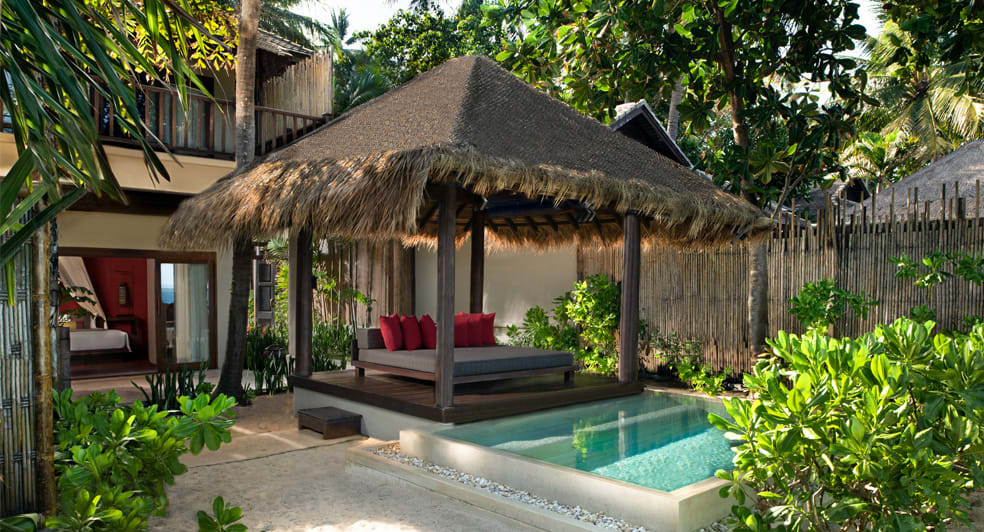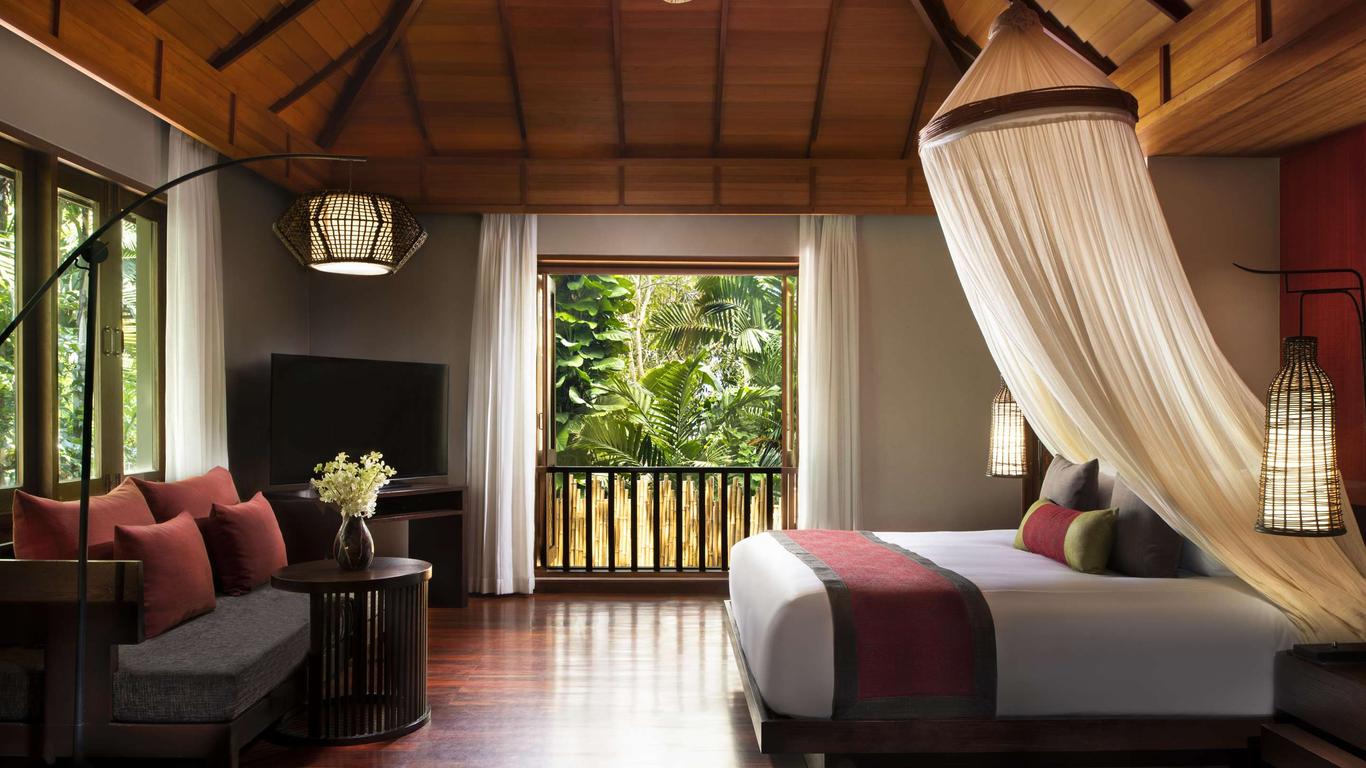 Dining in Paradise
Embrace Anantara Rasananda Koh Phangan Villas' gourmet delights in a choice of venues, all in keeping with the island's authentic setting. Explore flavours from around the world whilst enjoying the cool ocean breeze. Savour delectable flavours and cuisines at any of the Koh Phangan restaurants.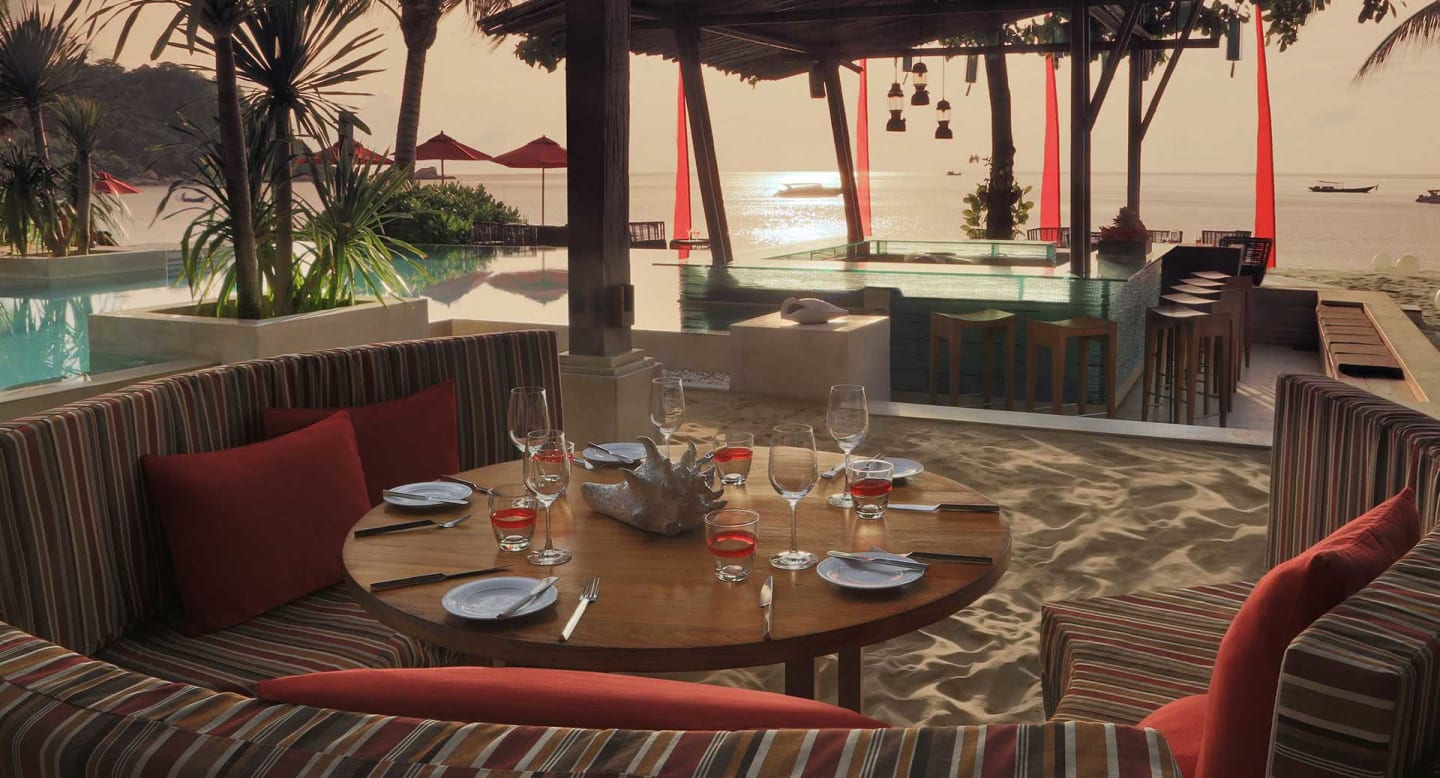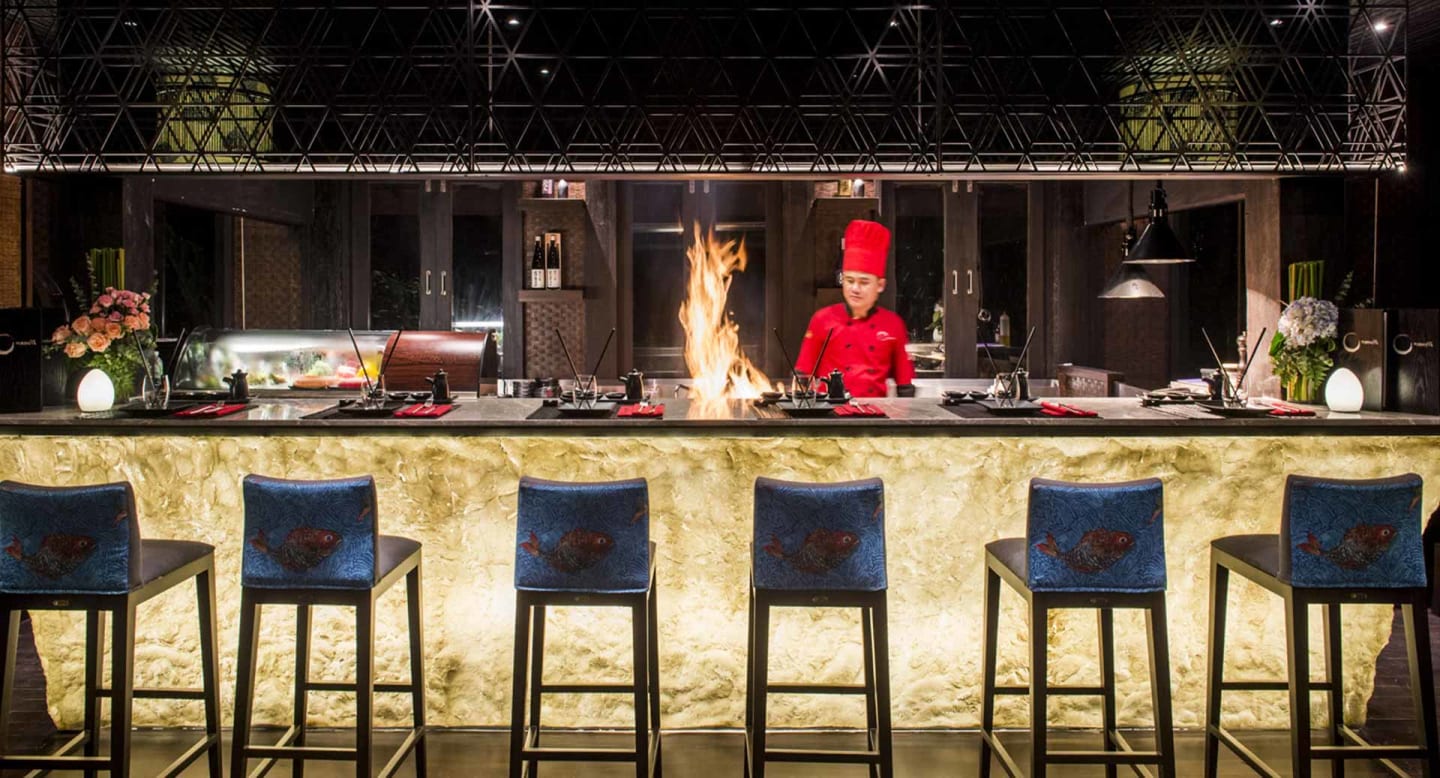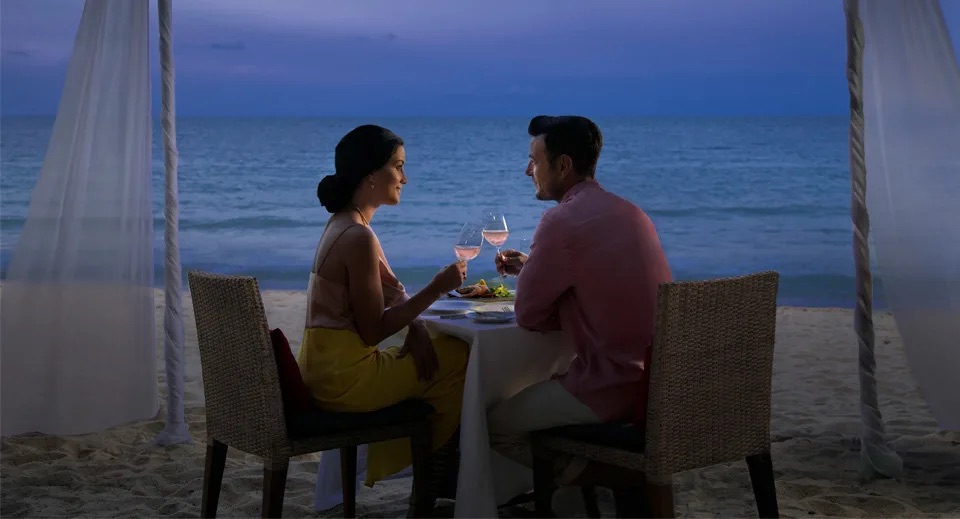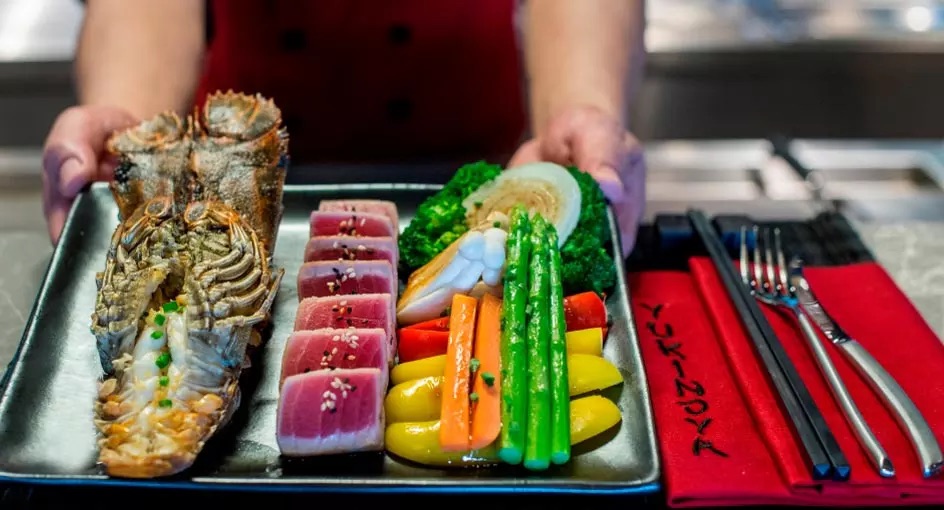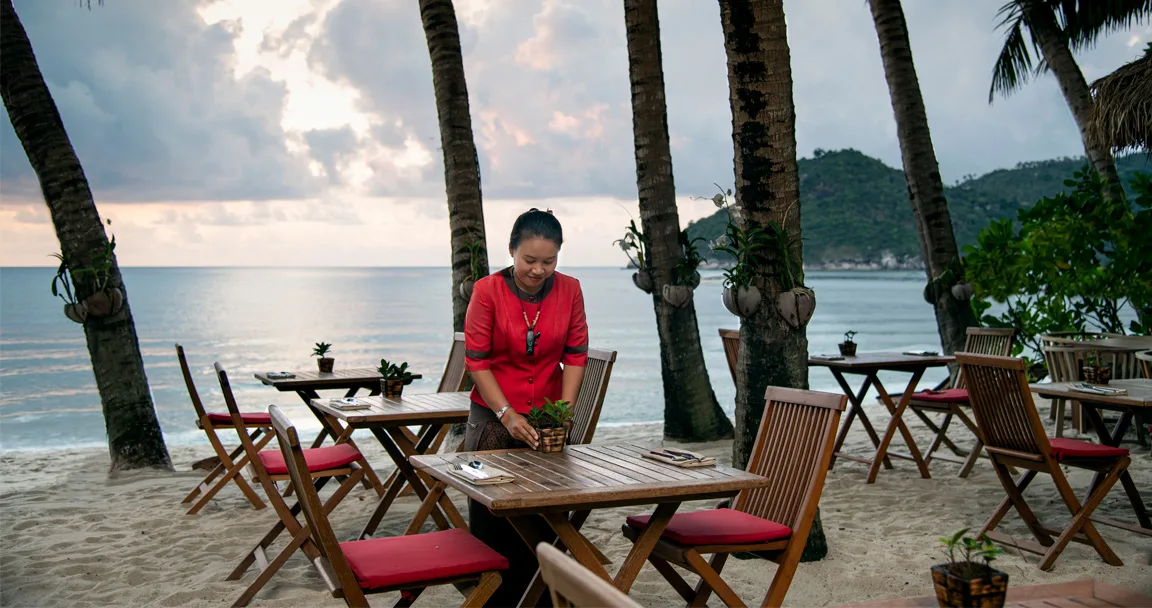 The Bistro at the Beach: Al fresco restaurant dining with stunning ocean views in Koh Phangan
Feel the sand between your toes and arouse your taste buds at The Bistro at the Beach, the ultimate luxury in barefoot dining. Lazy days start with a gourmet breakfast buffet with views onto the glistening sea. Set yourself up for the day with exotic fresh fruits, intricate pastries and eggs just as you wish. Lunch and dinner menus blend local and Michelin-star techniques: feast on Phangan ceviche and finish with mango crème Panna Cotta. Whatever you choose, savour it in a setting that immerses you in the island's beauty, at The Bistro @ The Beach, arguably one of the top restaurants in Koh Phangan.
Yukinoya: From the Land of the Rising Sun to your island paradise
At Yukinoya, the freshness and quality of Japanese flavours take centre-stage, as your personal chef serves up an omakase menu with the catch of the day, or mans the teppanyaki grill sizzling Tajima beef and local lobster before you. Explore the collection of rare sakes from all across the archipelago.
EDGE20: Quench your thirst and satisfy your hunger at our chic island-style bar in Koh Phangan
Sip on the mixologist's expertly fashioned drinks and admire the beach view at EDGE20, a must-visit pool bar in Koh Phangan. Cool down with soothing brews of speciality Dilmah and herbal teas served at your pool lounger, under a palm or at your stool by the bar. This island-style bar has a more than extensive menu of fresh fruit concoctions, signature cocktails and personalised creations making it the place to while your day away. Enjoy your choice in refreshing drinks from a Thai caipirinha to a Thai lime ice tea or a cool local beer. Whatever the time of day, complement your drink with a selection of light snacks.
In-Villa Dining: Private dining beneath the stars or tucked up in bed
Make the most of your private pool suite or villa with In-Villa Dining in Koh Phangan. Delicious dishes from The Bistro at the Beach are served in your secluded sanctuary from breakfast through to dinner, to save you having to move far. Talented chefs are on hand throughout the day to serve an indulgent selection of Thai and international dishes.
Dining by Design: A personalised culinary experience in Koh Phangan
Celebrate a special occasion or romance in an exotic beachfront setting. Collaborate closely with your personal chef to create a menu suited exactly to your mood. From tastes of Thailand to a delicious seafood barbecue, the Wine Guru will select wine to complement your truly unforgettable meal. Dine under the stars and over candlelight at a beautifully decorated table with bamboo gazebo. Alternatively, your suite or villa can be transformed into a magical dining retreat.
Anantara Koh Phangan Spa
Soak up award-winning expertise in the luxurious Koh Phangan spa, a sanctuary inspired by cultural traditions, jungle beauty and sea views.
Anantara Koh Phangan Spa is the place to unwind and settle into island life. A unique haven where ancient wellness traditions from Thailand and across Asia are practised to precision. Discreetly nestled behind the resort amid towering palms and with sea views, each of the treatment rooms are embedded into the dramatic limestone cropping. Let skilled hands heal and indulge with a loved one in a couple's room.
Spa Facilities
2 luxurious indoor couples' treatment suites
2 indoor treatment salas
Traditional outdoor Thai massage sala
Outdoor showers
Tropical steam cave
Yoga platform with sea view
Signature Spa Treatments
RASANANDA ISLAND BLISS
This soothing treatment is the perfect tonic for a hot beach day, combining a relaxing floral oil massage with a cooling after-sun soother to refresh body and mind. You will be left with increased circulation, muscles feeling refreshed and your skin nurtured and replenished ready for your next island adventure.
Shower – Floral Foot Ritual – Floral Oil Massage – Cooling After-Sun Soother – Refreshment
JOURNEY OF SIAM
Every step of this sequence of treatments celebrates Thai culture. Our team of experts use local exotic ingredients and holistic techniques to take you on a journey from head to toe, leaving you feeling relaxed and flexible. Muscles will be eased with a Thai Herbal Steam, your skin will be left feeling polished with an Essence White Coconut Scrub, and you will gently be put through your paces with a Traditional Thai Massage that combines stretching techniques with acupressure.
Shower – Floral Foot Ritual – Thai Herbal Steam – Essence White Coconut Scrub – Shower – Traditional Thai Massage – Refreshment
ANANTARA SIGNATURE MASSAGE
This signature massage promotes relaxation and restores energy flows along the meridian lines. By carefully blending oils with techniques from both the east and the west, your circulation will be stimulated and the traditional Thai ingredients will leave you feeling nourished and full of vitality.
Shower – Floral Foot Ritual – Meridian Lines Massage – Refreshment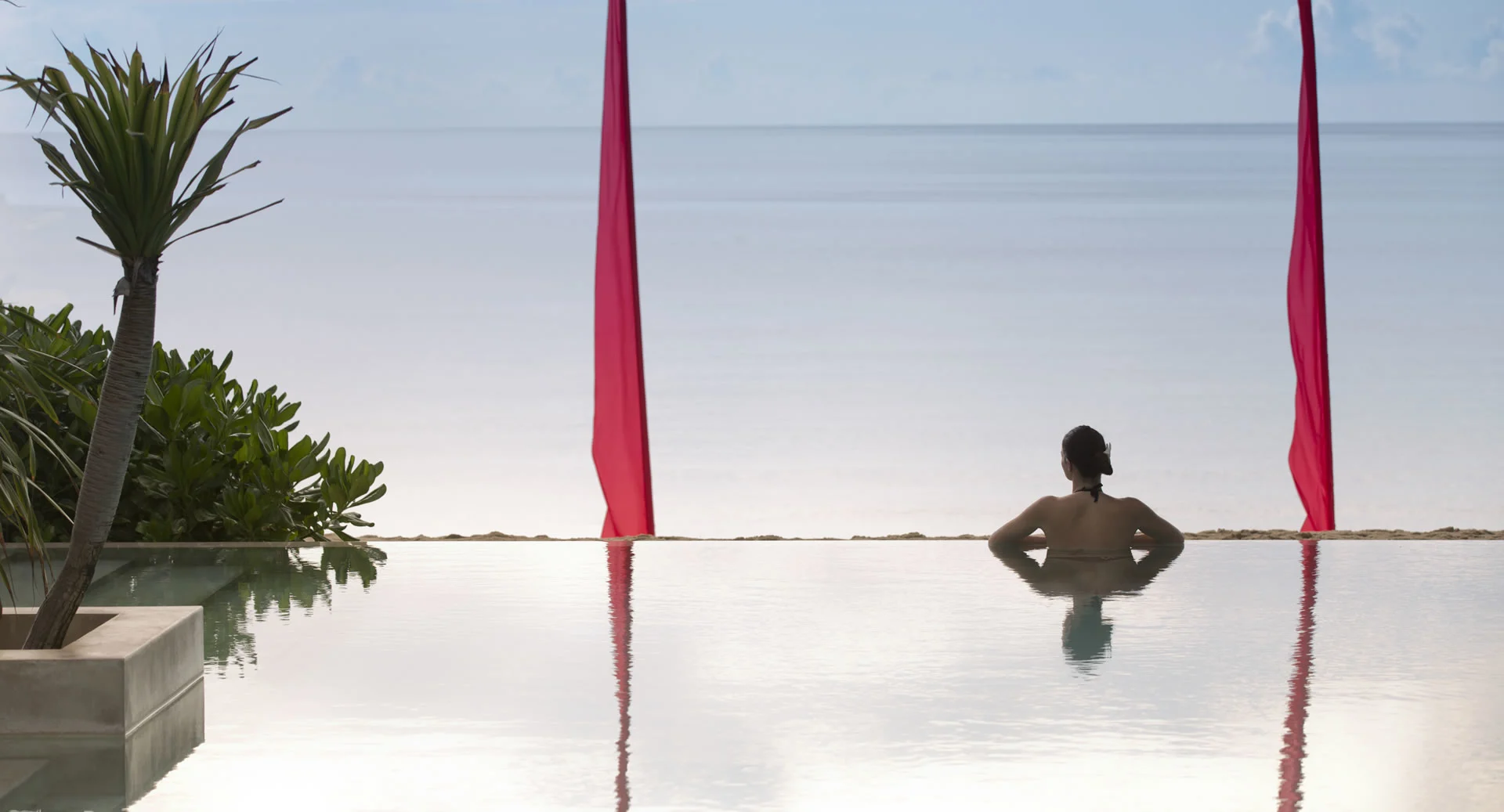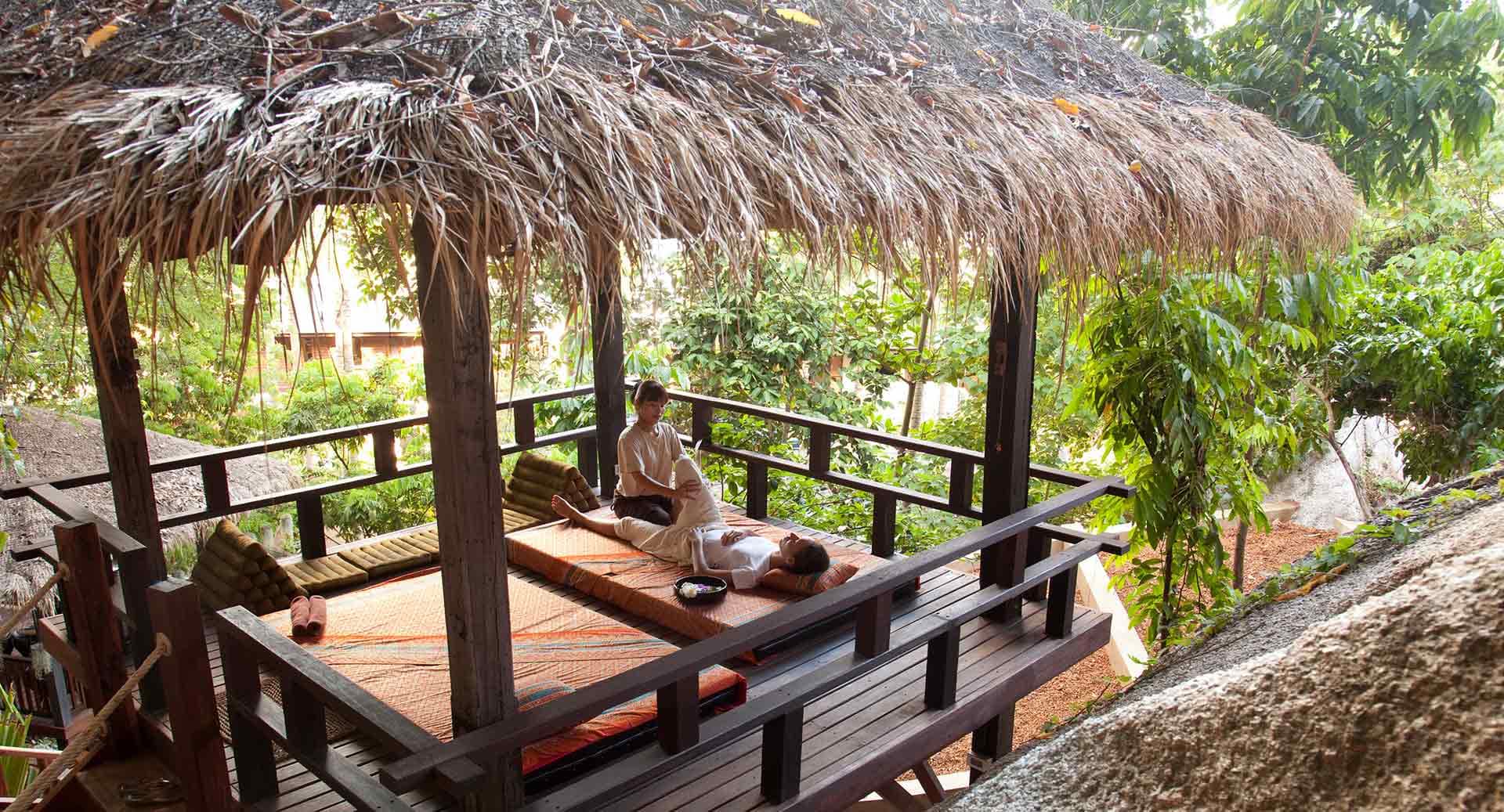 Map and travel information
Fly from London to Bangkok (approximately an 11 and a half hour flight) and then on to Samui (approximately 1 hour 15 minutes).
Guests have the option of travelling to the resort from Samui airport via private or shared speed boat transfer or the public ferry service.
Call us
Speak to our team:
Email us
Visit
Monday – Friday: 9am – 5:30pm
Saturday: 10am – 4:30pm
1 Market Place Mews,
Henley-on-Thames, OXON RG9 2AH