2016 is the 10th anniversary of the founding of our parent company, Feel Karma Ltd, under which Savile Row Travel and our sister brand, Feel Good Holidays, operate.
Local newspaper, the Henley Standard, recently interviewed Managing Director, Giles Hoff, and we are delighted to see the full article appear in the 23 September 2016 issue of the paper including a photo of Giles standing in the entrance to our office.
Giles is quoted as saying "We have a deep insight into some of the resorts which others just would not know. We know everything from which rooms face sunrise and sunset to what colour the taps are."
Inside knowledge like this is what sets us apart from competitors and online platforms in today's travel market. Our existing clients will already have experienced our personal service and in-depth knowledge and their testimonials can be found here.
If you're considering travelling with us for the first time please do read this article and pop in to see us in our Market Place Mews office. We have champagne in the fridge….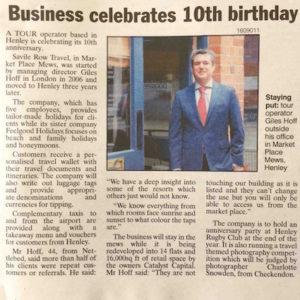 Call us
Speak to our team:
Email us
Visit
Monday – Friday: 9am – 5:30pm
Saturday: 10am – 4:30pm
1 Market Place Mews,
Henley-on-Thames, OXON RG9 2AH