The ultimate in aristocratic luxury on Corfu
Built by the Onassis family in the late 60's, Domes Miramare Corfu has always been a meeting point of state leaders, royalty, and jetsetters from around the world, with the King of Greece throwing parties for his royal visitors and famous British music idols resting in between tours.
The ultimate Corfiot romantic setting, Domes Miramare Corfu sits on a lusciously green foothill with a centuries old Venetian olive grove overlooking the glittering, tranquil bay. Every suite offers stunning views, close to the still and silent water of the Ionian sea.
Domes Miramare Corfu is a rare, preserved crown jewel from the era of aristocracy. Fine dining and opulent, with eye catching décor and inspired by Corfu's rich heritage, the past coexists with modern luxuries to create uniquely contemporary glamour.
From the hedonist pool, coveted art collection, the glimmering light of hanging lanterns to the orchestral performances over dinner, Domes Miramare Corfu is for those who wish to experience la dolce vita, along with its sister hotel Domes of Corfu.
---
Accommodation
Emerald Residence 2 Bedroom Sea View – 123m² – sleeps 5
Ultra-spacious, with two bedrooms with king sized beds and en-suite marble bathrooms with walk in showers. A separate living room with an open plan sitting area, a dining area and a fully equipped kitchenette.
Pavilion Retreat – 39m² – sleeps 2
These luxurious, semi-detached, single storey bedrooms, offer sea view and a large living area. Located in the 'Exclusive Area' of the resort, it has a large private garden, wooden decked sitting area, outdoor Jacuzzi, outdoor shower and sea views through palm trees, grass areas and low rise plants. Part of 'Haute Living Selection' – all residents are eligible to the relevant luxury inclusions.
Grand Pavilion – 110m² – sleeps 4
These luxurious, ultra-spacious, fully-detached, single storey suites have a private swimming pool, sea view and an exceptionally large living area with a sliding open roof, for romantic stargazing nights. Located in the 'Exclusive Area' of the resort,, these suites are part of 'Haute Living Selection' – all residents are eligible to the relevant luxury inclusions.
HRH Pearl Villa – 75m² – sleeps 3
This waterfront, fully-detached, single storey villa, offers uninterrupted sea views and a remarkable living area. It is located in the 'Ultra Exclusive Area' of the resort and sits right on the waterfront. It has a 63m² swimming pool, its own separate entrance and private parking, an outdoor jacuzzi along with its personal, astonishing sea view. Part of the Haute Living Selection.
---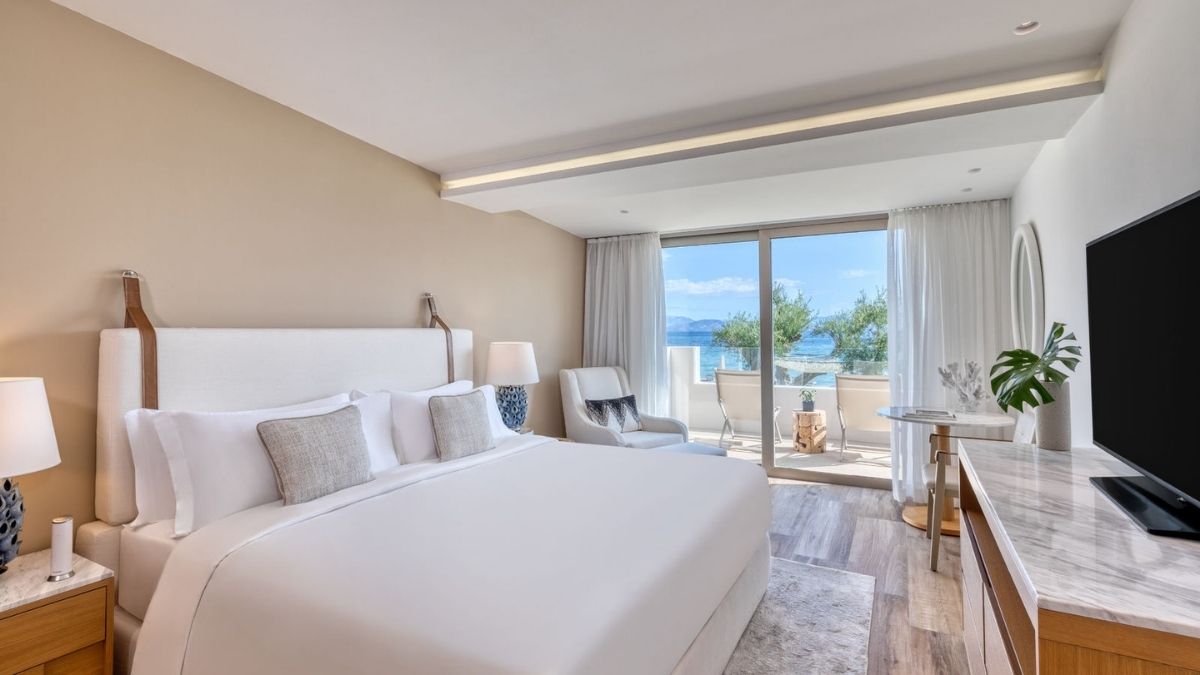 ---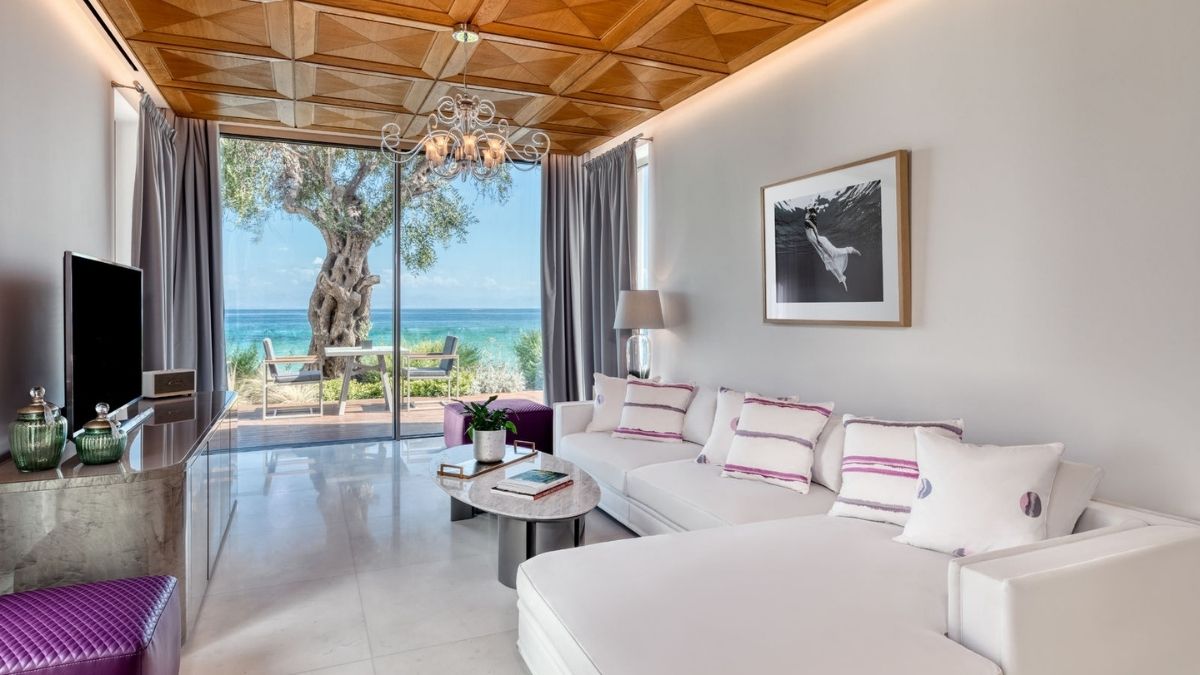 ---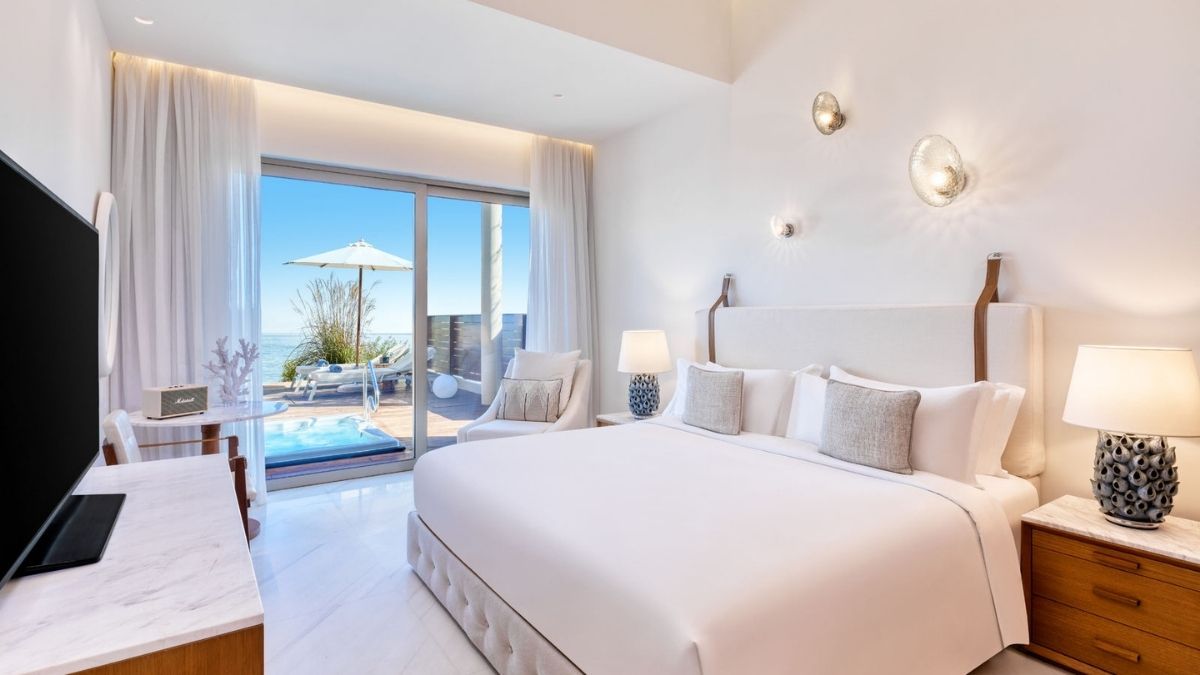 ---
Spa & Experiences at Domes Miramare Corfu
Located in Miramare's most private area, the Somo Spa is a lavish suite with of two separate spaces, one for solo and one for couples' treatments, along with a lounge for nail treatments.
The gym is home to cardio, strength, and functional equipment, a haven for every fitness enthusiast, with the option of the assistance of a personal trainer.
Activities include twice weekly painting masterclasses, daily olive grove yoga classes, glass-bottom canoeing, water biking, SUP rides, wakeboarding, seaside training sessions, among others.
Domes Miramare's private beach is an elegant symphony of green, gold, and emerald, with crystal clear shallow waters. The Miramaretta and Mas 28 Elegance, the resort's luxurious motor boat and speed boat respectively, are at your service, whether you feel like visiting in style Corfu's Old Town or a nearby secluded cove.
---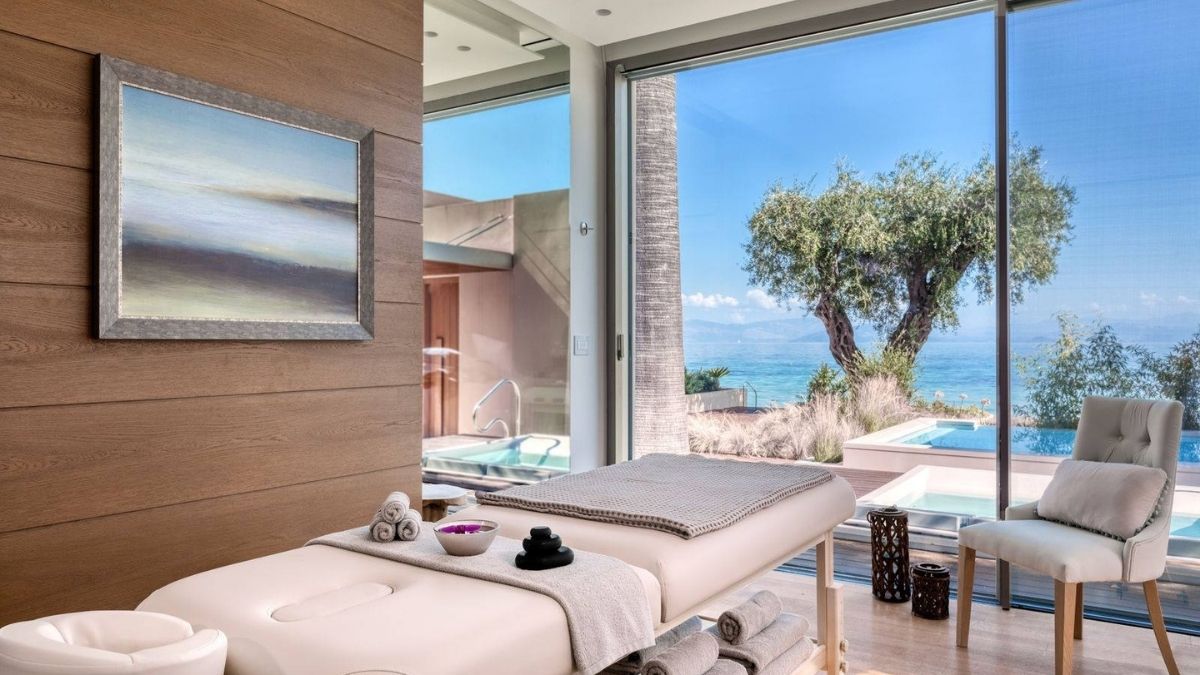 ---
---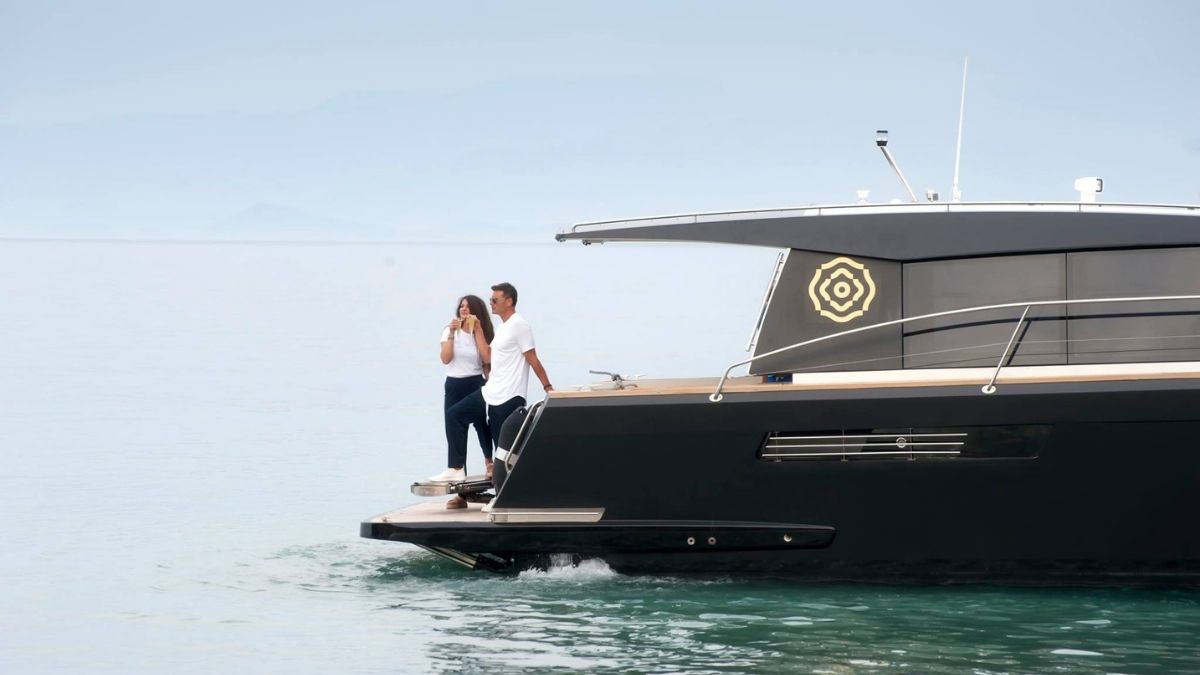 ---
Dining & Bars at Domes Miramare Corfu
You'll find some of the best restaurants in Corfu right here at Miramare, including Makris Degustation restaurant. The restaurants serve some of the most delicious vegetarian and gluten-free food Corfu has to offer.
Makris Restaurant – Classic and creative upscale Mediterranean food in an unpretentious menu full of premium meat and vegetarian choices.
Makris Degustation – Discover just how far a bite can travel you when it's impeccably made.
Cooked not just with precision but with gusto, the haute cuisine menu is both accessible and exciting.
Raw Bar – Stunning sea vistas best enjoyed with a selection of premium sushi – prepared in its open kitchen by the resident sushi chef – along with fine champagne and exquisite cocktails.
Blue Bar – Laid-back yet distinctly aristocratic, this is the resort's most sophisticated bar, where the notes of the piano serve as the soft background for premium spirits, excellent wine and signature cocktails.
Verde Pool Bar – Cocktails that seal summer in a glass, barista-level coffee and beverages, salads, sandwiches and finger food.
---
---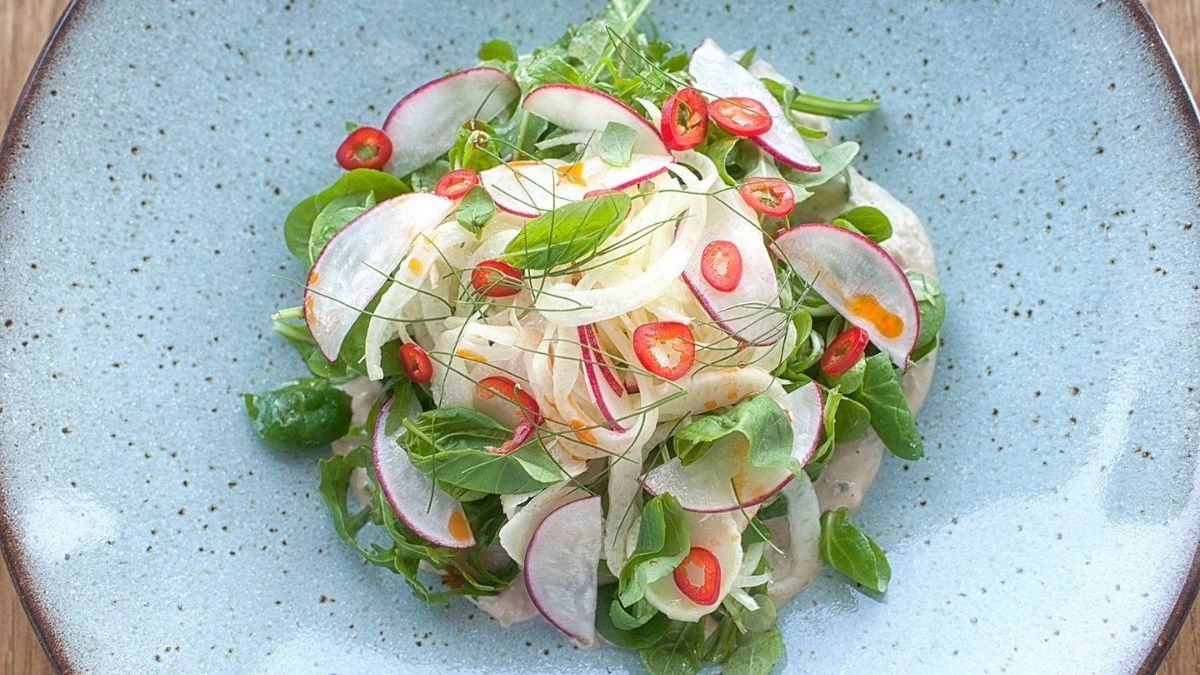 ---
---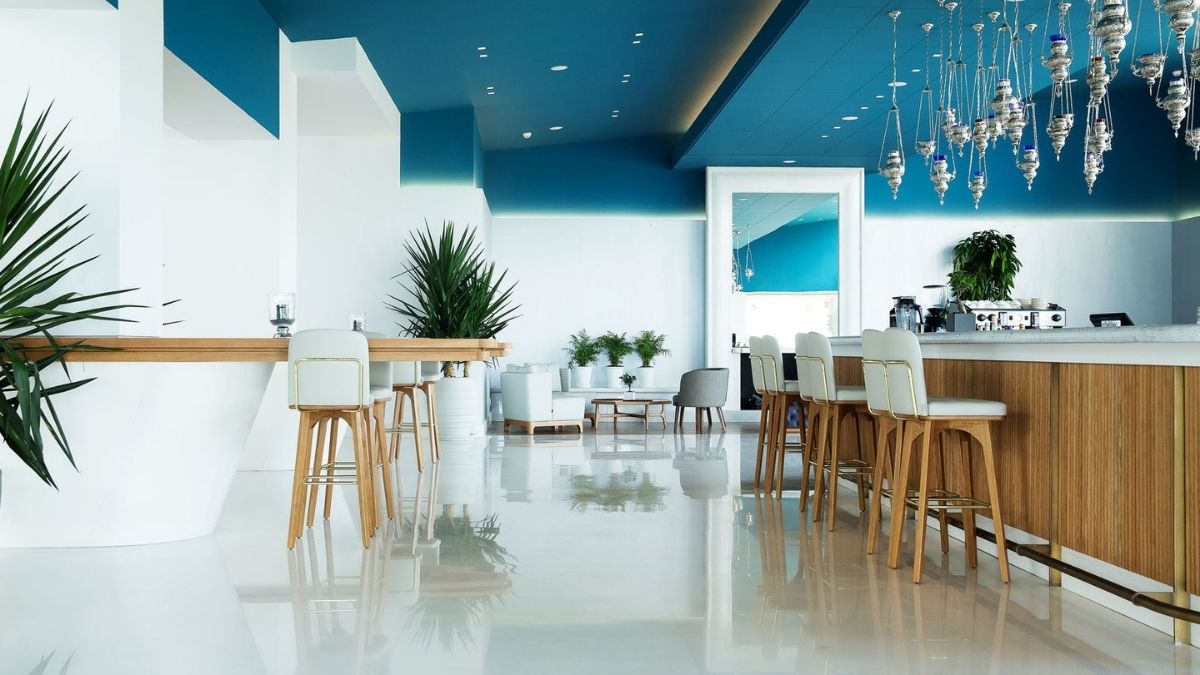 ---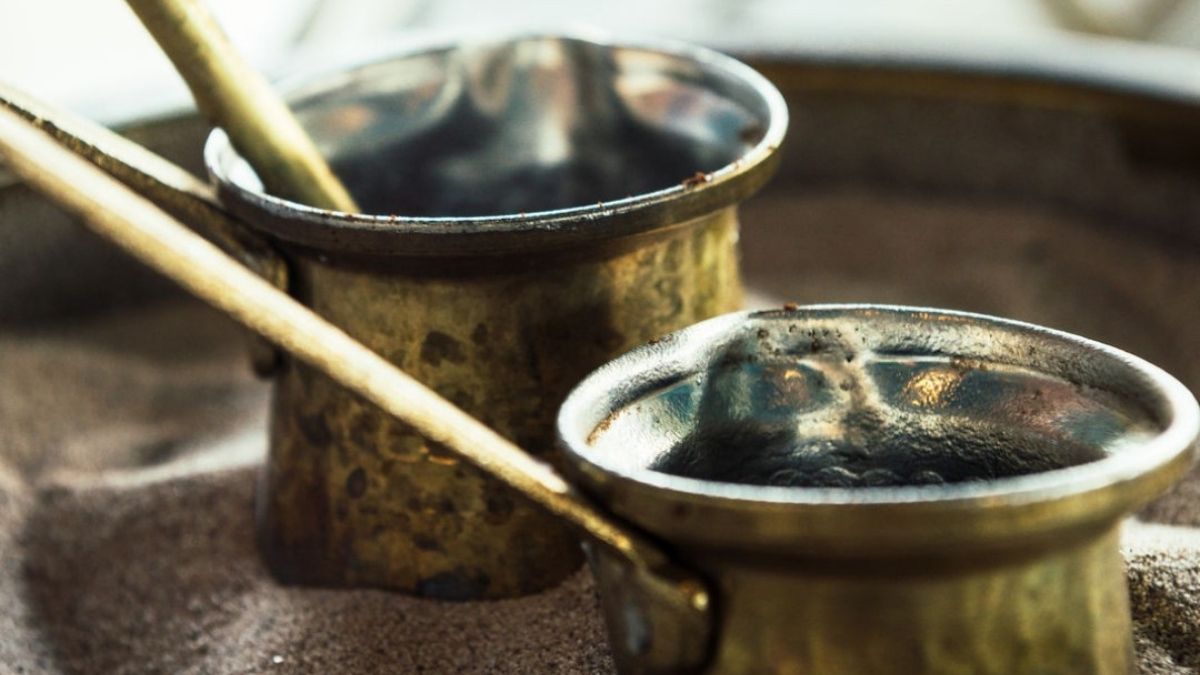 ---
Map and Travel Information
Fly from London to Corfu in around 3hrs 15m. Private transfer to Domes Miramare Corfu in 30 minutes.
Call us
Speak to our team:
Email us
Visit
Monday – Friday: 9am – 5:30pm
Saturday: 10am – 4:30pm
1 Market Place Mews,
Henley-on-Thames, OXON RG9 2AH